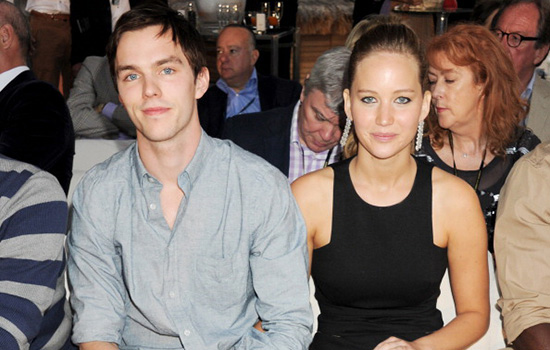 Before Jennifer Lawrence was being linked to the likes of Bradley Cooper, Michael Fassbender, and every other man under the sun, she was dating "Warm Bodies" star Nicholas Hoult.
The 22-year-old actress met the "About A Boy" actor while filming the 2011 hit "X-Men: First Class," and the couple dated for roughly two years. But alas, the pair called it quits in January, purportedly due to their busy schedules. But that doesn't mean Hoult wasn't rooting for the "Silver Linings Playbook" star during Sunday's Oscar ceremony.
At the Los Angeles premiere of his new action flick "Jack the Giant Slayer," Hoult told E! News that he couldn't be happier for Lawrence.
"I'm very, very happy for her. I'm thrilled!"
We knew the 23-year-old Brit was a charming fellow … though what was he supposed to say, "I hate her and she doesn't deserve that Oscar," or something? Of course he's going to say he's "happy" she won.
Both "The Hunger Games" star and Hoult are set to star in the upcoming "X-Men: Days of Future Past" and to make it even more awkward, her rumored flame Fassbender is also starring in the action flick.
Hoult rose to fame while starring as the boyishly handsome Tony on the raunchy UK series "Skins." He later had a memorable turn in the drama "A Single Man," as a student lusting after his professor Colin Firth.
Next year, he'll appear in the drama "Young Ones," opposite Elle Fanning and Michael Shannon as well as "Mad Max: Fury Road" alongside Michael Fassbender and Charlize Theron.
GQ magazine recently released a photo spread featuring the actor donning the latest fashion trends.
Be the first to receive breaking news alerts and more stories like this by subscribing to our mailing list.