Following the 2013 Oscars, host Seth MacFarlane learned the hard way that Hollywood takes itself way too seriously and that people get offended by just about anything. So would he consider taking on the gig in the future?
"No way," MacFarlane tweeted in response to a fan's question. "Lotta fun to have done it, though."
There you have it folks, less risky hosts like Billy Crystal are set to bring the Oscars back to being an immeasurable bore fest. Yaaaaayyy……
---
Stephen Colbert Thinks "Zero Dark" Thirty Should Have Won an Oscar
Stephen Colbert isn't too excited that "Zero Dark Thirty" didn't take home Best Picture, but the "Colbert Report" host isn't surprised. He tweeted:
TONIGHT: "We all know Hollywood doesn't reward torture films. If they did, the winner would've been BATTLESHIP." @colbertreport, 11:30 p.m.

— Stephen Colbert (@StephenAtHome) February 26, 2013
Touché.
---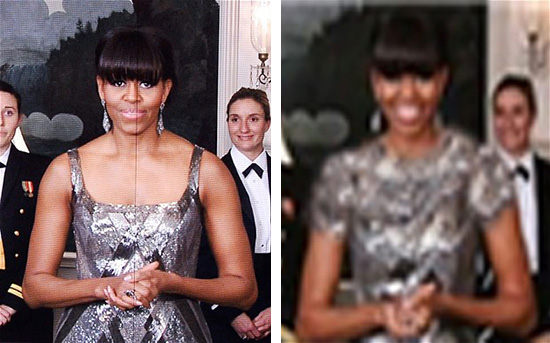 First Lady Michelle Obama's Chest, Shoulders Censored in Iran
First Lady Michelle Obama was a surprise presenter at Sunday's Oscars and appeared via satellite to announce the Best Picture award. The first lady appeared in a stunning Naeem Khan dress that rivaled some of the designs worn by A-List starlets.
But it turns out Iran's "Fars News" had to photoshop the dress so that it was more modest — adding sleeves and more fabric to the neckline.
We wonder what they had to do to Anne Hathaway's dress (see @AnneHathawayNipples).
---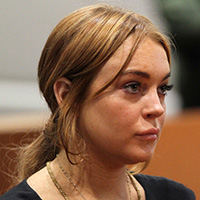 Lindsay Lohan Owes the IRS Almost $200,000
In celebrity train wreck news, Lindsay Lohan is sinking further into debt. According to TMZ, the troubled starlet owes the government over $56, 700 in taxes for the year 2011 and $140,000 for 2010, making a total tax bill worth nearly $200,000!
This is the third time Lohan has attempted to avoid taxes. She was slapped with a charge for over $93,000 in 2009, which fellow CrazyTown resident Charlie Sheen supposedly paid for her. But this time, she's on her own. [TMZ]
---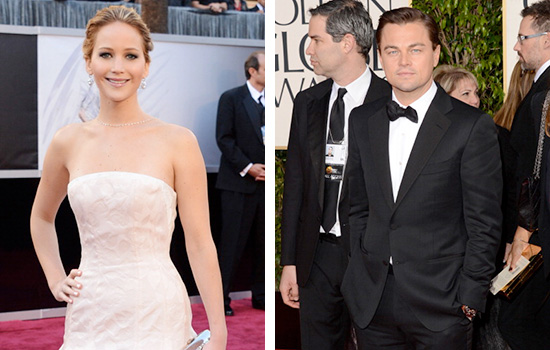 Did Leonardo DiCaprio Hit On Jennifer Lawrence at an Oscar After Party?
Since breaking up with "Warm Bodies" star Nicholas Hoult, Jennifer Lawrence has been linked to "Silver Linings Playbook" costar Bradley Cooper, Robert Pattinson, and Michael Fassbender. Now it seems that the press' never ending quest to link her with every man in Hollywood now includes rumors of a hot hookup with Leonardo DiCaprio.
The modelizer, who was famously snubbed by the Academy despite his riveting turn as a ruthless plantation owner in "Django Unchained," was reportedly hitting on Lawrence at Harvey Weinstein's Oscar after party … or at least that's what Celebrity Dirty Laundry claims. [CDL]
---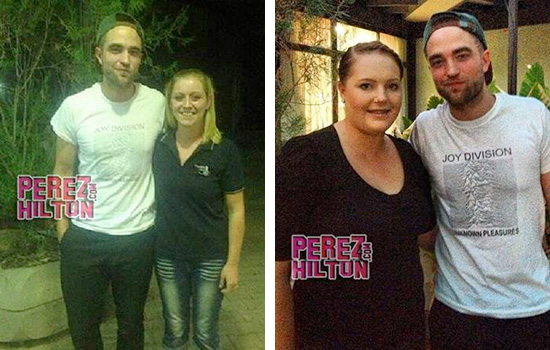 Robert Pattinson Makes Time for Fans … but Not for 'Girlfriend' Kristen Stewart?
Robert Pattinson was snapped posing with fans this weekend while shooting "The Rover" in Australia. The British-born nice guy didn't look too broken up abut his alleged breakup with Kristen Stewart. Then again, numerous other reports insist that all is well for the "Twilight" couple, so who knows? [Perez Hilton]
---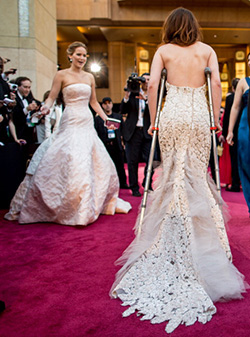 Speaking of K-Stew, a source reportedly told Us Weekly that the "On the Road" star was thrilled when Jennifer Lawrence won the Best Actress Oscar for her role as a depressed widow in "Silver Linings Playbook."
"When they announced Jen's name, Kristen was so happy and cheering for her!" a source who attended the ceremony told the mag. "She was going crazy in her seat."
So don't believe all of those reports that the two are rivals. It's great to see two starlets getting along rather than feeling that they need to compete with one another.
Fun fact: Lawrence auditioned for Stewart's role as Bella Swan in "Twilight." [Us]
Be the first to receive breaking news alerts and more stories like this by subscribing to our mailing list.