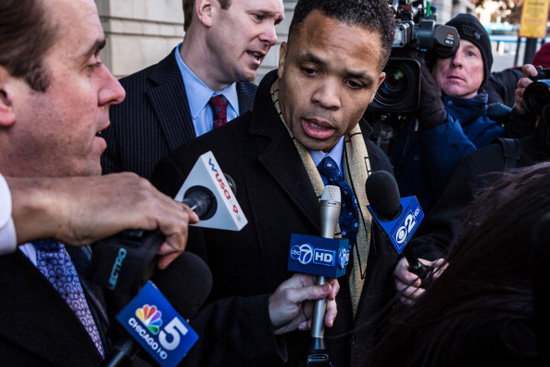 After months of dodging and hiding, Congressman Jesse Jackson Jr. finally had to face the music. The son of Rev. Jesse Jackson pleaded guilty to a felony fraud of $750,000 on Wednesday, along with his wife, Sandi. He's expected to serve 46 to 57 months in prison, according to reports.
During the courtroom sentencing, Jackson Jr. broke down in tears and took responsibility for his actions, the New York Times reports:
"For years I lived off my campaign," Mr. Jackson, 47, said in response to questions from the judge about the plea. "I used money I shouldn't have used for personal purposes."

At one point during the hearing, the judge stopped his questioning of Mr. Jackson, who was crying, so that he could be given a tissue.

"Guilty, Your Honor — I misled the American people," Mr. Jackson said when asked whether he would accept the plea deal. Mr. Jackson's father, the Rev. Jesse L. Jackson, his mother and several brothers and sisters accompanied him to the hearing.
Much of the money Jackson Jr. and his wife diverted from the campaign was spent on fur coats, TVs, DVD players, vacations and apparently, elk heads. Who knew black folks were into taxidermy?
Jackson Jr. went MIA for a while last summer and then claimed to suffer from bipolar disorder. His attorney Reid Weingarten commented, saying, "That's not an excuse, it's just a fact."
Politicians screw up all the time, but it's especially embarrassing when the politician comes from a prominent civil rights family. Then again, given Jesse's own scandals, most would say the apple doesn't fall too far from the tree.
Be the first to receive breaking news alerts and more stories like this by subscribing to our mailing list.