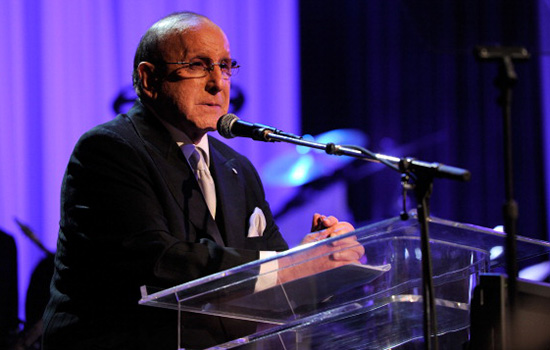 Clive Davis has come out as bisexual. The 80-year-old music mogul reveals in his soon-to-be released memoir, "The Soundtrack of My Life," that for the past 20 years he has been in two relationships with men.
Davis previously held a long-term relationship with a doctor for 13 years and has been in a relationship with a man for seven years whose identity he would not reveal.
In his 500+ page autobiography, Davis recalls that his first time having sex with another man was during the "Studio 54 era" when he was married to his second wife Janet Adelberg.
"On this night, after imbibing enough alcohol, I was open to responding to his sexual overtures," Davis wrote. "Was I nervous? Absolutely. Did the heavens open up? No. But it was satisfying."
From there, Davis says that he went through a period of "soul searching and self-analysis," and after he and Adelberg separated in 1985, Davis began dating both women and men. Since 1990, he has been in only two long-term relationships, and both have been with men.
"For over 50 years I never had sex with a male," Davis told Nightline's Cynthia McFadden. "I wasn't repressed. I had very good sexual relationships with women."
McFadden then pushed Davis more on the "either gay, straight or lying," front and Davis delved more into the subject and said there needs to be more conversation about bisexuality. "I'm not lying," Davis said. "[Bisexuality] exists."
Asked if he felt ashamed about the first time he had sex with a man, Davis replied "I never felt shame, no. I felt puzzled. The subject of bisexuality really needs much more discussion. It's a status that does exist."
In another interview, Davis explained his bisexuality to Katie Couric: "You don't have to be only one thing or another. I opened myself up to the possibility that I could have a relationship with a man as well as the two that I had with a woman."
Clive Davis, who also hosts a huge self-titled party every year the weekend of the Grammy Awards, is known as the driving force behind some of the biggest names in music including Aretha Franklin, Rod Stewart, Bruce Springsteen, Whitney Houston, Alicia Keys, Christina Aguilera, Kelly Clarkson, Jennifer Hudson, among many others.
A member of the Rock and Roll Hall of Fame, Davis has also run a number of record labels, including Columbia Records, Arista Records, J Records and RCA Music Group.
Be the first to receive breaking news alerts and more stories like this by subscribing to our mailing list.