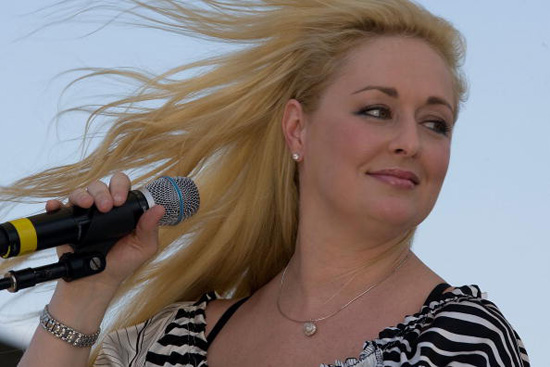 Country singer Mindy McCready died Sunday (Feb 17) at her home in Heber Springs, Arkansas from a single self inflicted gunshot in an apparent suicide. According to sources, McCready shot herself and her dog. She was 37 years old.
According to E! News sources, McCready's father had been staying with her up until this morning when he went back home to Florida. One source said that when her father left, "[Mindy] was in good spirits and seemed to be fine."
Later in the day, neighbors heard two gunshots and called the police. "She shot herself and the dog," the E! News source said.
A statement from the Cleburne County Sheriff's Office read:
"At 3:31 PM, Sunday, February 17th Deputies from the Cleburne County Sheriff's Office were dispatched to a report of gun shots fired in the area of 1132 Fox Chase Drive in Heber Springs. Officers arrived on the scene at 3:58 PM and discovered the body of 37-year-old Melinda Gayle McCready on the front porch of the residence at 1132 Fox Chase. Ms. McCready was pronounced dead at the scene from what appears to be a single self-inflicted gunshot wound. Ms. Mcready will be transported to the Arkansas State Crime Lab for an autopsy and the matter will be fully investigated."
McCready's life has been marred with troubles and tragedy over the past several years. The country singer, who was once engaged to Dean Cain, has been in and out of rehab and had lost custody of her two children.
She was also convicted of prescription medication fraud in 2004, a DUI in 2005, and was charged with battery and resisting arrest in 2007.
McCready had attempted suicide at least four times before her death, once back in 2005 and most recently in 2010. She was also featured on Dr. Drew's Celebrity Rehab in 2010.
Just last month, the father of McCready's youngest child, David Wilson, was found dead from a suicide. Her children were removed from her custody on February 6, and she was committed to a to a treatment facility for a mental health and alcohol abuse evaluation. She was released two days later.
McCready is survived by her two young sons, Zander, 6, and 10-month-old Zayne.
Be the first to receive breaking news alerts and more stories like this by subscribing to our mailing list.