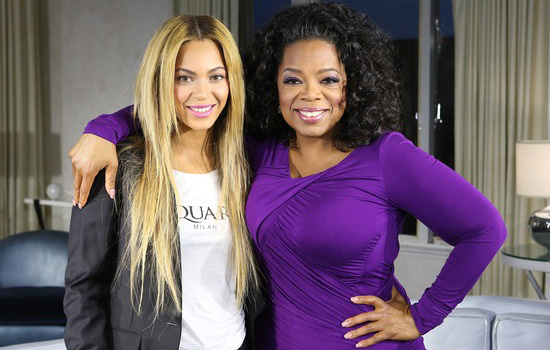 If you were looking for a scandalous reveal from Beyonce's interview with Oprah Winfrey for OWN's "Next Chapter," think again.
Beyonce largely shared personal tales of her daughter, Blue Ivy, and the evolving relationship she has with her husband, Jay-Z, during the sitdown and there were few eyebrow-raising answers from Queen Bey. Well, besides that one part where Beyonce said she considers 43-year-old Jay-Z to be a "young man."
"He's a different human being and it's really beautiful to see a young man, such a great father, and I'm so lucky," Beyonce said when asked about how fatherhood had changed Jay-Z.
Girl, if Jay-Z is young then Waka Flocka is a rocket scientist. Who she foolin'?
Other tidbits revealed during the sit down interview with Mama O, who was pretty much fawning over Beyonce the entire time:
– She's probably going to have another baby after the Mrs. Carter Show tour wraps.

– Beyonce gained nearly 60 pounds during her pregnancy.

– Her road manager sometimes makes her angry on purpose before shows so she can fuel that energy onstage.

– Kelly was in New Orleans with Beyonce for two weeks ahead of her performance at the Super Bowl.

– She prefers to communicate through photos rather than words on social media, which is why she lives for Instagram but not Twitter.
Since Oprah didn't broach the subject of her father Mathew Knowles' infidelity and his lovechild, which journalist will be the first to get Beyonce on record about it?
Watch the Oprah interview in its entirety below:
Be the first to receive breaking news alerts and more stories like this by subscribing to our mailing list.