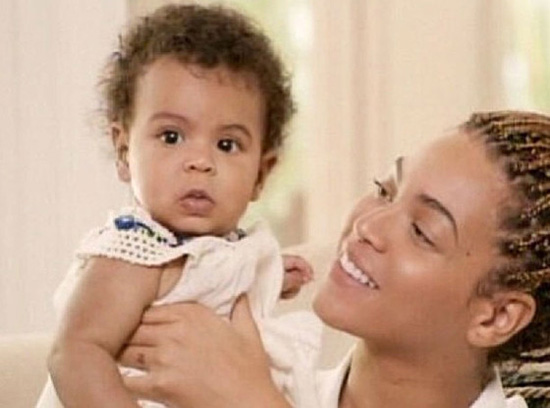 It's finally here: A non-blurry, full frontal picture showing Blue Ivy Carter's face! Beyonce shows off her 1-year-old daughter in her HBO documentary and an image from the film showing Beyonce holding Baby Blue has leaked to the Internet.
Though we've seen Blue Ivy's face a few times before — like the month after she was born, and in these unsolicited shots of her — this is the first time we've seen her in full view since she's grown up.
And we just couldn't help but notice how much Blue looks her daddy Jay-Z. Just look at that face! Her eyes scream Beyonce, but that nose, those cheeks and her lips. All Jay-Z.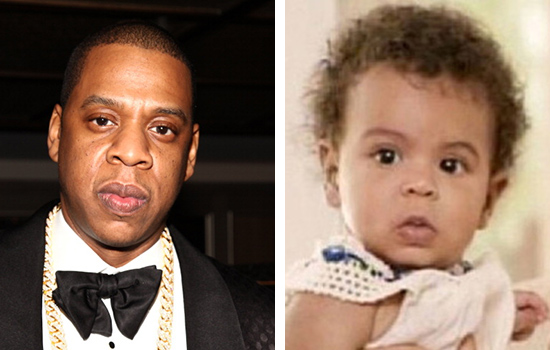 Beyonce and Jay-Z have been very protective of showing off their daughter to the world, and just because Beyonce is showing her in her HBO special, that doesn't mean we'll be seeing any more of Blue Ivy than we already have. She told E! News in a recent interview, "I will still be protective and make sure [Blue Ivy] has a childhood and a great time."
She added, "At some point, you know it is what it is, you can't control it anymore. But I know as long as I'm the mother that I know I can be and the mother I have—such an incredible mother—my daughter's going to be fine."
Beyonce also revealed that her HBO documentary, titled "Life Is But A Dream," was started before she got pregnant, but she didn't feel as though it was complete until she became a mother. "It's out now because I feel like I finally know what to say after seeing my child's eyes," she said.
In addition to cameos from Blue Ivy, you can also expect several from Beyonce's husband Jay-Z, who also shares in the notorious privacy of the relationship between Hip-Hop's royal couple, but agreed to put it all out there together just for the film.
"None of the footage was directed; it's all natural moments, so I think [Jay-Z] probably meant to say he was surprised he let us put it in the movie," Beyonce said, laughing. "It's inspiring to see real life and a real couple."
Beyonce's "Life Is But A Dream" HBO special airs Saturday night (Feb 16) at 9 p.m.
Be the first to receive breaking news alerts and more stories like this by subscribing to our mailing list.