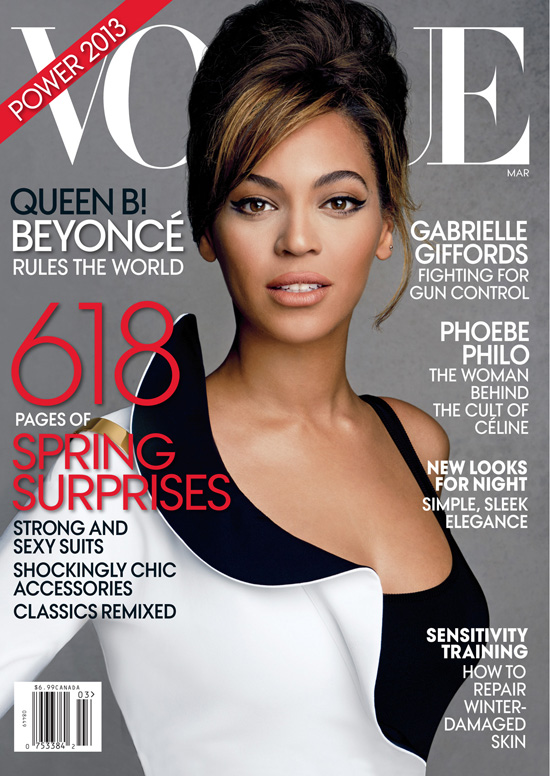 Continuing her takeover of the first few months of 2013, Beyoncé graces the cover of the March issue of Vogue magazine.
Before she was on the receiving end of a ton of backlash after lip-synching the National Anthem at President Obama's second inauguration and made up for it with a phenomenal Super Bowl halftime show, Beyoncé sat down with Vogue writer Jason Gay and opened up about a number of personal topics.
What stood out the most in the interview was how candid she was about giving childbirth and the relationship she has with her 1-year-old daughter Blue Ivy, who she referred to as her "road dog, my homie, my best friend."
Among many other things, Beyoncé also talks about wanting more children, how firing her father back in 2011 affected her, her upcoming HBO Documentary (airing Saturday, February 14) — which she was was therapeutic for her, and how she and her husband Jay-Z truly understand each other.
"Just knowing someone's always going to be honest and tell the truth," she says of Jay-Z, "[who] can understand exactly what I'm going through — and I can understand exactly what he's going through."
Beyoncé's Vogue feature also includes a sexy photo spread in which the singer models designer outfits from Oscar de la Renta, Alexander McQueen and Haider Ackermann.
Check out a few excerpts and the photo shoot below.
Beyoncé on her new album and returning to the spotlight:
"I'm still completely nervous," she says. "I still feel pressure."

"I'm going to be tweaking," she says, smiling. "I still have things to figure out."

Beyoncé recorded much of her upcoming album (which she compares to a blend of her last album, 4, and 2008's I Am . . . Sasha Fierce) this past summer in New York's Hamptons, where collaborators included Timbaland, Justin Timberlake, and The-Dream, and the vibe was beachy and relaxed. "We had dinners with the producers every day, like a family," she says. "It was like a camp. Weekends off. You could go and jump in the pool and ride bikes … the ocean and grass and sunshine… It was really a safe place."
Beyoncé on her relationship with her daughter Blue Ivy, giving birth and motherhood:
"She's my road dog," Beyoncé says. "She's my homie, my best friend."

"I felt very maternal around eight months," she remembers. "And I thought I couldn't become any more until I saw the baby. . . . But it happened during my labor because I had a very strong connection with my child. I felt like when I was having contractions, I envisioned my child pushing through a very heavy door. And I imagined this tiny infant doing all the work, so I couldn't think about my own pain. . . . We were talking. I know it sounds crazy, but I felt a communication."

"My family and my closest people were there when I gave birth," she says. "Everything that scared me just was not present in that room. So for me to really let go and really appreciate every contraction … it was the best day of my life."

"I feel like I have something that has grounded me so much more," she says. "Family has always been important. I've always had my mother and my father and my husband. But it's just…" She pauses. "Life is so much more than… It's not defined by any of this."

"When I was younger, there were moments where I said, 'I'm not going to have children,' " Beyoncé says. "And then moments when I wanted four. And now I definitely want another, but I don't know when."

What will happen will happen, she says. But there's a sense that Beyoncé won't let her life get relentless, that she will pull back now and again, not immerse herself in the way she once immersed herself.

"At some point it's very important to me that my daughter is able to experience life and run through the sprinklers and have slumber parties and trust and live and do all the things that any child should be able to do," she says.

Girl Scouts? Lemonade stands? School visits? Hello, Mr. and Mrs. Carter are here for their parent-teacher conference… "Absolutely," she says. "School visits and lemonade stands and all that stuff. It's very important for me."
Kelly Rowland on Beyoncé's wisdom and her work ethic:
Kelly Rowland, her longtime friend and Destiny's Child collaborator, describes her as a perfectionist who will stay up until 4:00 a.m. the night before a concert, attending to issues as minor as a costume button. ("Her hand's in everything," Rowland says.)

"She's wise beyond her years sometimes," Rowland says. "I think that comes with her growing up in [her mother's] hair salon. I also grew up in the salon. . . . We'd listen to other people's conversations and learn a lot."

Rowland says that Beyoncé has "always had that motherly instinct . . . ever since we were kids." And there is a sense that with Blue, Beyoncé is slipping into a natural, comfortable role.
Beyoncé's BFF Gwyneth Paltrow on how her now being a mother has changed a few things up:
Beyoncé's close friend Gwyneth Paltrow relates a story of going to visit her in the recording studio and encountering mother with daughter.

"Blue was sleeping in her arms, across her body, and B was listening back to what she had been working on," Paltrow says. "I thought, This is how you do it. You do what you love with who you love included."

There's one change in the musical life of Beyoncé, Paltrow notes. When Blue's in the studio, they turn down the volume.

"When she is working onstage, she has more power than any woman I've ever seen," says Paltrow. "She would never say it and has never said it, but I feel she knows with every fiber of her being that she is the best in the world at her job."
About Beyoncé's HBO Documentary and why she decided to do it:
"My story has never been told—no one really knows who I am," she says. "This movie has healed me in so many ways. It makes me want to cry… I'm sorry," she says, her eyes welling. "I'm very passionate about it, and it just feels good."

Beyoncé, of course, lives her life before cameras—not just the unsolicited paparazzi ones, but her own videographers, who chronicle everything from mundane meetings with producers to family birthday parties. And so Life Is But a Dream unfurls less like a traditional documentary and more like a tastefully appointed home movie.

There are monologues featuring Beyoncé in her bed, without makeup, talking into her laptop. There are glimpses of private helicopters, jets, a balcony suite at the Ritz Paris. There's cute footage of a bathing-suit-clad Beyoncé frolicking with her husband aboard a yacht and at a dinner in Croatia, where the pair perform a duet of Coldplay's "Yellow." While there is plenty of singing and dancing, Life Is But a Dream also visits moments of heartbreak.

One story line that shapes the film is Beyoncé's difficult 2011 decision to split with her father, Mathew Knowles, as her business manager. At first she is desolate — "My soul has been tarnished," she declares — but later, as she asserts her independence and confronts the petty squabbles of the business, she comes around to appreciating her father's hand. "My father taught me so much about being a businesswoman," she says. "And I'm understanding him a lot now… A lot of the crazy things he did were necessary."
Beyoncé sets the record straight on those surrogacy rumors:
"That was very odd," Beyoncé says now. "Who even thinks that? Like, who would make that up? You can't take it too seriously."

Beyoncé's mother, Tina Knowles, who calls the pregnancy rumors "the most ridiculous thing in the world," admits she has a harder time letting gossip slide. "It's tough as a mother because people say all this crazy stuff . . . and I want to say, 'You should tell them' sometimes. She'll say, 'Mom, I don't owe them that. Let them say what they want to say.' "

"I have to calm her down," Beyoncé says of her mother.
About how Beyoncé avoids reading comments on stories about her:
When she encounters a story about herself on the Internet, she reads only the story. She stops there. She doesn't let herself scroll down into the comments sections, which have a tendency to become cruel, ad hominem free-for-alls. "Don't scroll down!" Beyoncé advises, laughing. "You're definitely going to get your feelings hurt."
Beyoncé on how she's earned the right to sometimes say no:
Beyoncé refers to the sacrifices she made when she was young, the thousands upon thousands of hours of spent practicing and performing and accruing success and goodwill. She believes she has earned some latitude, the ability to occasionally step away and let go. "I don't feel like I have to please anyone," she says. "I feel free. I feel like I'm an adult. I'm grown. I can do what I want. I can say what I want. I can retire if I want. That's why I've worked hard."
For more on Beyonce, click here for the full Vogue article. And be sure to catch her HBO documentary when it airs Saturday (Feb 16), along with her interview with Oprah on OWN.
[VOGUE]
Be the first to receive breaking news alerts and more stories like this by subscribing to our mailing list.