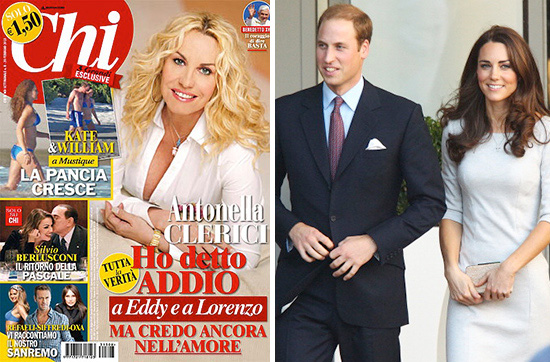 Kate Middleton just cannot seem to catch a break. In what Middleton and Prince William thought would be a private vacation in Mustique has turned into yet another "breach of privacy" for the Royal couple.
Chi, the Italian magazine that published topless photos of the Duchess of Cambridge on a private vacation six months ago, is apparently ready to strike again. However, this time around, Middleton is clothed, but the images are still private to the Dutchess. Chi has captured Middleton in a bikini showing off her baby bump.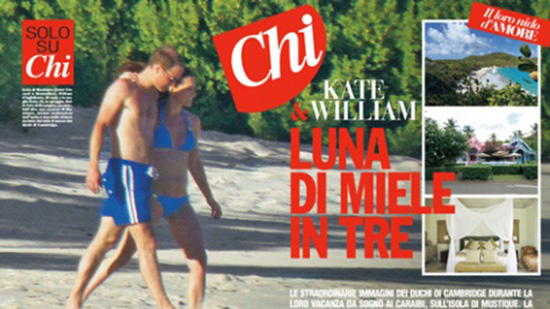 "We are disappointed that photographs of the Duke and Duchess on a private holiday look likely to be published overseas," a spokesman for the couple at St. James' Palace told People magazine. "This is a clear breach of the couple's right to privacy."
According to Us Weekly, this was not the way Middleton wanted her baby bump to make its debut.
"It's been a real sour note for the end of their trip," a source told the magazine. "For Catherine, it was the first time she had shown her baby bump, and so for it to be exposed so quickly has shaken her up a little. They thought with the privacy laws on the island they would be able to spend a moment outside of the house without this happening."
Unfortunately, this isn't the first scandal has struck the Royals during Middleton's pregnancy. The Duchess was forced to reveal that she was with child earlier than she wanted to after she was hospitalized for acute morning sickness.
And during her hospitalization, a pair of radio hosts gained access to private medical information about Middleton after pranking the hospital and convincing a nurse that they were the queen. The nurse subsequently committed suicide and the radio hosts' show was cancelled and they were let go from the station.
The Duchess is reportedly due in July and was expected show off her baby bump for the first time in her second official public appearance since her pregnancy announcement last December, but apparently, Chi beat her to it.
Meanwhile … where's the baby bump?!?
Be the first to receive breaking news alerts and more stories like this by subscribing to our mailing list.