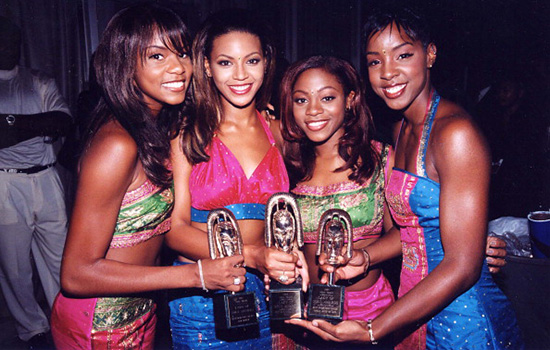 While Kelly Rowland and Michelle Williams had the fortune and pleasure of joining their fearless leader Beyonce onstage at the Super Bowl, two founding members of the group were left taking in all of the action from their couch, just like the rest of us.
LaTavia Roberson and LeToya Luckett both had nothing but kind remarks about their former gal pals Beyonce and Kelly.
Roberson told Celebuzz, "Obviously, seeing Beyonce perform was the highlight for me. I got a real surprise when both Kelly and Michelle both popped up on the stage like that."
The real surprise was when Destiny's Child didn't perform any songs from 'The Writings on the Wall,' possibly cutting Tavia and Toya out of some pricey royalty checks. Boom!
LeToya, who had a minor hit with one song, "Torn," was pumping her pom poms for Team Beyonce on Twitter.
"I.N.C.R.E.D.I.B.L.E. #soproud," Luckett tweeted after the halftime show. She later added that it was "The MOST entertaining Super Bowl I've ever seen in MY life from start to finish! #Handsdown"
Roberson elaborated even further in her interview with Celebuzz:
"I thought they all looked great and did a good job with their dance moves," she said. "Beyonce was especially amazing. She looked fabulous and her voice was really strong. During the performance somebody texted me to say they could not hear Kelly and Michelle sing. It was so noisy in the house where we watched the performance that I did not really notice anything wrong. But who knows? They probably had some technical problems."

"It was great to see them all performing together and I have no bitter or bad feelings toward any of those women. I wish them all the best," she said. "I am at a good place in my life and things always work out for a reason. I am working on several projects with both acting and music that are exciting to me."
It's good that LaTavia and LeToya both learned how to lose gracefully. But damn! If we were them, we'd be kicking ourselves for jumping off of the gravy train.
Life in the struggle lane ain't easy. And we know they're feeling deprived of the Beyspirit.
Be the first to receive breaking news alerts and more stories like this by subscribing to our mailing list.