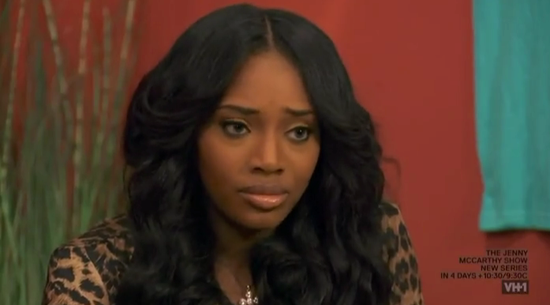 We don't know how or where "Love & Hip Hop" got entangled in this tragic mulatto story of Erica Mena's, but we, the viewers, are forced to sit through yet another post-outburst lunch, sit down and therapy session with Erica Mena.
Yandy meets up with Rich Dollaz in the opening scenes and he discusses how Erica is loyal but too hot to handle. So he begs Yandy to step in and help him guide her. The way he talks about her, you'd think Rich was talking about breaking in a puppy.
Yandy hesitantly agrees, but hey, she signed up for this show so she has to earn her paycheck somehow, right?
So off Yandy goes to meet up with Erica, who shows up in full-on Dallas-style hair and makeup. Does this bitch know how to tone it down at all? Don't come to a damn apology lunch with full-on drag make-up and Beyonce hair, please. Too much.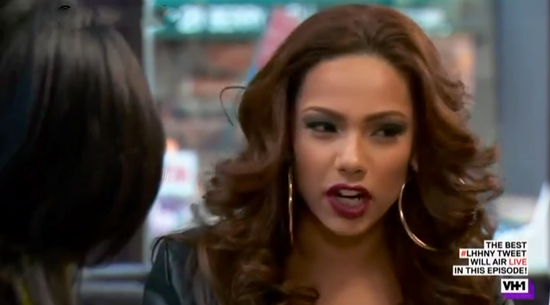 The editing on this scene is very rough and difficult to piece together.
As soon as Erica sits down, Yandy begins to ask her why she acted the damn fool at her event and before you know it, Erica is blubbering about how she was "sleeping with the enemy" and forced to go into defense mode.
What she's talking about is her toxic relationship with Terror Squad's Raul Conde, which devolved into her assaulting her boyfriend on the streets.
So yeah, Erica casts herself as the victim and tears up, which is enough to make Yandy have a change of heart toward Erica. Whatever, let's just move this paper-thin plot along if we must.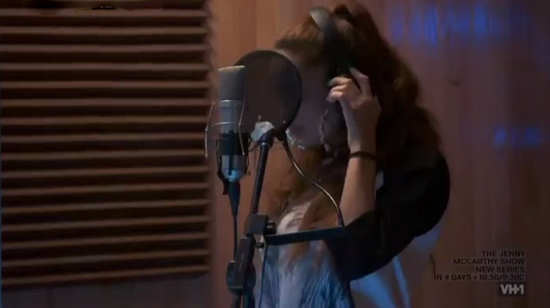 After patching things up with Erica, Yandy joins Rich and the Latina loudmouth in the studio. We, the people, finally get to hear an Erica Mena track.
What we're assaulted with is an auto-tuned ballad that sounds like the spawn of T-Pain and Future, with a Telemundo filter thrown on top.
It's basically a hot mess, but Yandy nods her head and says she's "not mad at it." Rich thinks he's got a hit on his hands and Erica talks about how she can't wait to perform the song live. She's clearly confused, because the only thing that will be doing any work on that stage is her auto-tune.
No wonder Olivia didn't want no parts of this Erica Mena music business. Even flops have standards.
Life with Mendeecees
Now that little Omere has healed and recovered from his kidney surgery, Yandy and Mendeecees decide it's time for a family portrait. So the trio head out to a photographer's studio to snap a few flicks, but unfortunately for Mendeecees, Yandy has invited her mother along for the occasion as well.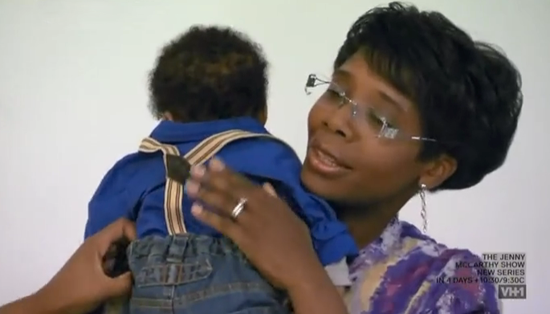 Understandably, Mendeecees gets frustrated with the impromptu interruption. Or maybe he was just bothered by Yandy's mother's bad mushroom haircut.
While it's understandable that Yandy leans on her mother to help out with the baby, it's ridiculous that she doesn't think twice about inviting her mother to intrude on pretty much any intimate moment between her and Mendeecees.
Yes, her baby daddy needs to step up and put a ring on it, but Yandy also needs to woman up and put her mama in her place.
Things get heated though once Yandy learns that Erica has been looking for a new place to live in New Jersey, since her mother is planning to move there soon.
Mendeecees asks to speak privately with Yandy, but Yandy plays dumb and acts like she doesn't see anything wrong with planning a move to another state without consulting Mendeecees.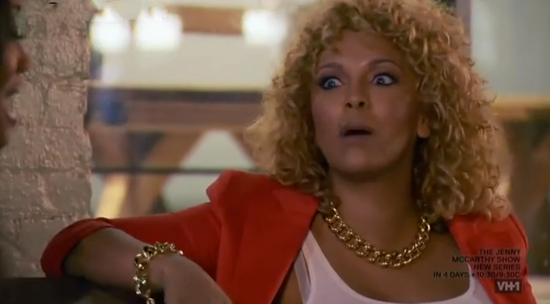 Seeking enlightenment, Yandy calls on her friend and former LHH star Kimbella for advice. As crazy as Kimbella is, she lets Yandy know that she's tripping. Straight up. Guess Yandy needed to hear from someone else before she believed Mendeecees.
Later, Yandy treats Mendeecees to a date night and the two finally seem to get on the same page as they cuddle in bed at a hotel while watching Yandy attempt to stunt like she's Sasha Fierce in a custom music video she made for her man. Let's just hope they don't make another baby. Not right now.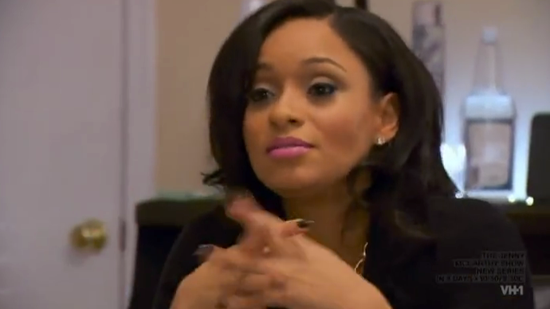 The Miseducation of Tahiry
When Tahiry and Joe Budden joined the cast of "Love & Hip Hop," we thought that the two exes would produce volcanic drama similar to Stevie J and Joseline Hernandez.
But that isn't what we've been getting the past few episodes. What we've seen instead is a strange, calculated and orchestrated relationship on the mend.
Tahiry takes every opportunity to remind Joe of how her hurt her in the past, but Joe is slowly winning her over with his curious sense of humor.
He uses an intensely calm demeanor to lure Tahiry into a false sense of security with him, but it's like a cobra playing dead only to spring to life once its prey ventures close enough.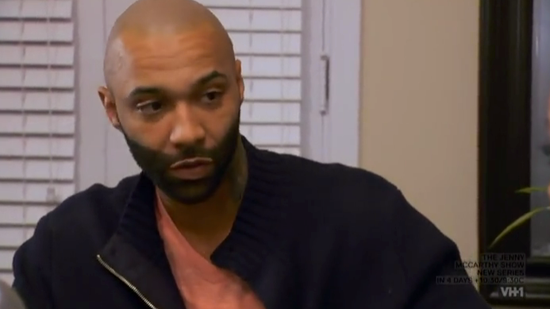 The smart thing for Tahiry to do would be to walk away completely from the Joe Budden situation. But she can't do that because she doesn't want to do that.
So with that decision, Tahiry is no longer a victim of Joe Budden's machinations, she's a willing participant.
Since Joe proved to Tahiry that was he was clean last episode, Tahiry invites him over for dinner, as she promised. It's pretty much a friggin' date.
And when Tahiry meets up with her two fat friends Rashidah and Winter to talk about it, they roll their eyes and sigh at Tahiry's tsunami of denial.
Can we pause here and ask what the purpose is of including Rashidah and Winter as "main characters" on the show?
Rashidah has done nothing but counsel Tahiry on her rekindled romance with Joe. Winter stopped by to chat with Jen about her book and we haven't heard from her since.
Are they going to do ANYTHING worth mentioning at all? Can they get a subplot and some meaning, please?
Back to Tahiry and Joe, at their dinner. Tahiry mentions to Joe that she's recording a single.
To his credit, Joe DOESN'T fall out of his chair laughing. And when he makes it to the studio to hear her song, "Devil," which is apparently about him, he doesn't make her feel like the fool she sounds.
The track consists of Tahiry rhythmically talking about a man who treats her bad while a guest male vocalist does all of the heavy lifting on the hook.
If there's one thing reality TV has truly destroyed, it's the idea of what it takes to become a singer. Just because you can upload a file to iTunes, doesn't mean you should. Tahiry would do wise to stick to video modeling.
The Jen and Raqi Show Gets Cancelled Before It Gets Started
In the quest for relevance and a paycheck, the two broke bitches of LHH, Raqi Thunda and Jen the Pen, decide to team up to take back their former careers in radio.
Raqi reasons that Jen's "whiteness" can win her some market advantage and Jen, well, Jen just seems to be happy to have something to do besides floss Consequence's Bugs Bunny teeth and press his drawers.
So Raqi sets up a meeting with Hot 97's Ebro, the program director for the biggest hip hop radio station in New York.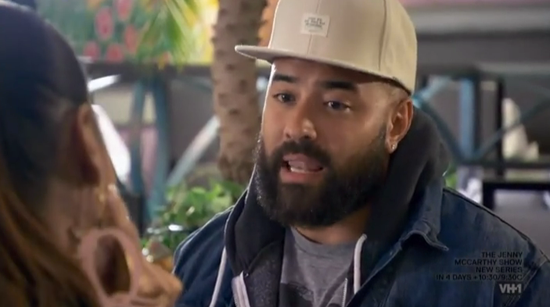 While Raqi makes her pitch to Ebro for her idea of a radio show, she speaks in embarrassingly simplistic keywords. Hot 97 should get on board with her show idea because, it's a platform for two women in hip hop.
Really? The only reason people should care about what you have to say is the fact that you have vaginas and like listening to 50 Cent's "Get Rich or Die Tryin'"?
Annoyingly, Raqi punctuates her conversation with phrases like "KABOOM!" as if this is helping her sales pitch.
Ebro remains largely unimpressed with the idea. He points out that he's not looking for on-air talent on broadcast radio, so were they thinking of doing something on the Internet?
Raqi doesn't want to come out and say yes, so she gives some convoluted answer about it being social and livestreamed, which basically means the Internet.
He raises a glass to the idea, since after all, a web-based radio show is low risk and doesn't cost him a damn thing.
In exchange for letting Raqi and Jen try their hand at Internet broadcasting, he and the station get valuable television exposure with a highly valuable and urban audience through his appearance on the show. So it's a win-win for all involved.
Jen is pleased with her second shot at fame.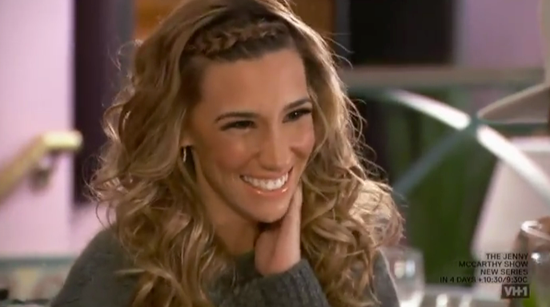 Once they get into the studio, however, with one of Mendeecees' artists Vado, things go south.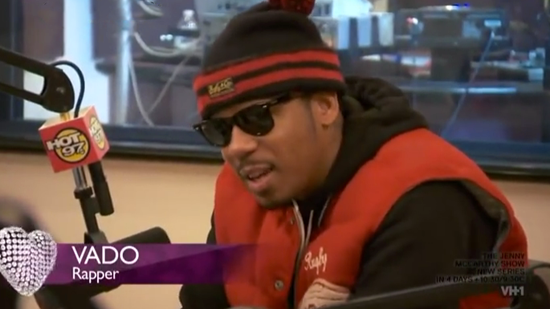 Raqi spends the bulk of the pilot show throwing her pussy at Vado, flirting and purring on the microphone.
She's trying to give us dirty sex talk, a la Angela Yee, but instead Raqi gives us chickenhead vibes. Angela Yee was a freak and she pried into the sex lives of her guests, but she wasn't about THROWING herself at the guests.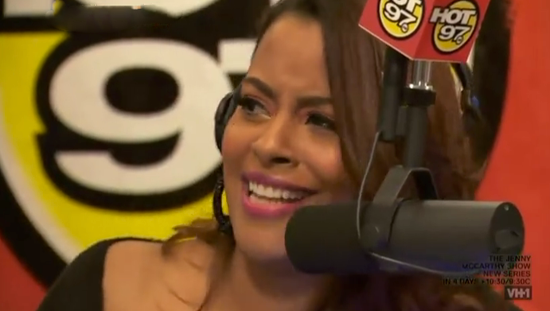 Jen is disgusted with Raqi's behavior, in large part because Ebro specifically told them not to be ditzy flirts. Raqi clearly didn't get that memo. She also doesn't give much air time, which doesn't sit well with Mrs. Consequence.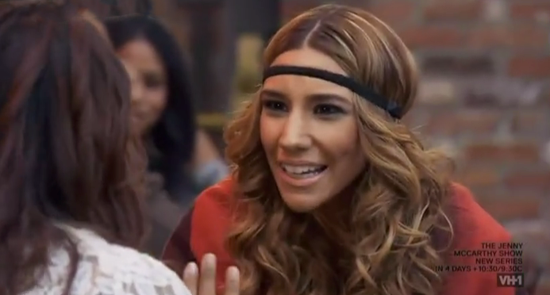 So she meets up with Raqi after the show to discuss what went down. But things turn ugly fast as Raqi lashes out at Jen for being ungrateful.
Raqi argues that she was doing Jen a favor by pulling her into the project since her career was "cold."
Jen reminds her that at her peak in radio in Chicago, her platform was much larger than Raqi's ever was. After all, 50 Cent co-signed her!!!! Girl, as if that means anything in 2013.
But it gets really bad when race enters the mix. After several insults are traded, Jen walks off, only for Raqi to pursue her while Jen sits in her car.
As the arguing continues, that's when Jen says that she doesn't need Raqi's help making it in radio because she's white.
"I'm white, honey. It will get done," Jen says.
Idiot. With that hideously phrased argument, Jen just pissed off the core audience of this show.
Yes, Raqi tried to leverage Jen's whiteness as an asset in the pitch, but by Jen claiming it and owning it as a badge of entitlement, she's setting herself apart from her castmates, her baby daddy and the viewing audience.
Expect there to be tears and apology tweets from Jen.
Be the first to receive breaking news alerts and more stories like this by subscribing to our mailing list.