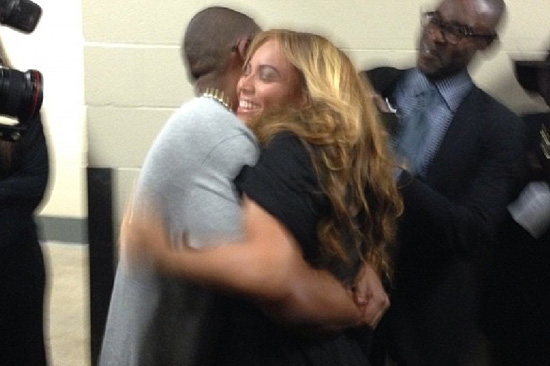 Beyonce shared many warm moments with those close to her backstage right after her Super Bowl Halftime Show performance Sunday night. One special moment was shared with her husband Jay-Z, who was visibly proud of his superstar wife and was pictured giving her a hug as everyone looked on, probably saying "Awwwww!!!"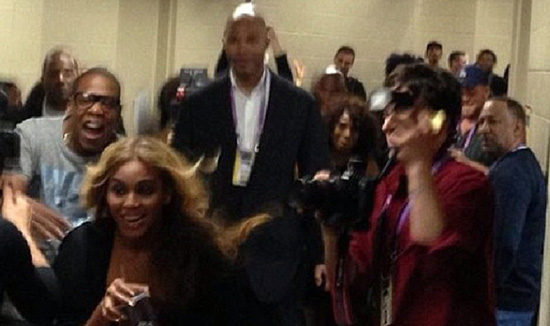 That embrace was posted to Instagram, along with a few other backstage pics, including one of Beyonce with her BFFs Kelly Rowland and Michelle Williams, both of whom shared the stage with Beyonce during the 2-minute Destiny's Child reunion that happened in the halftime show.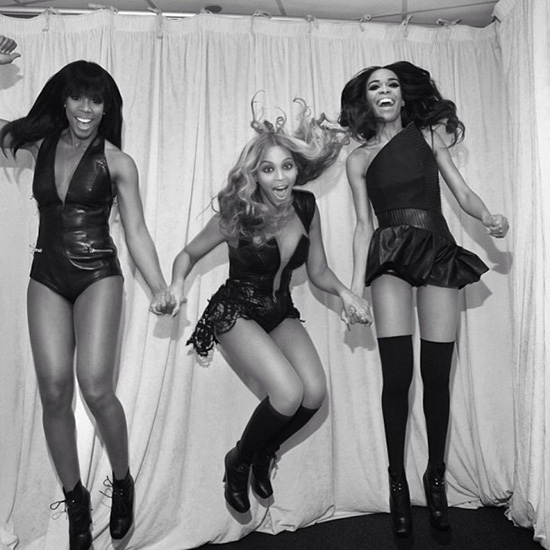 Following her performance, Beyonce told OMG! Insider: "It feels good to know the hard work paid off. It's a live television show. It's the biggest show in America. There's so many things that could happen and God was on my side, so I'm very, very happy that it went well and the power went out after."
Shortly after Beyonce exited the stage, the power went out in the Mercedes-Benz Superdome, and it took 34 minutes for it to be restored. It's rumored that Beyonce's electrifying stage show had something to do with it, however officials have yet to specifically note that the singer caused the power to shut off.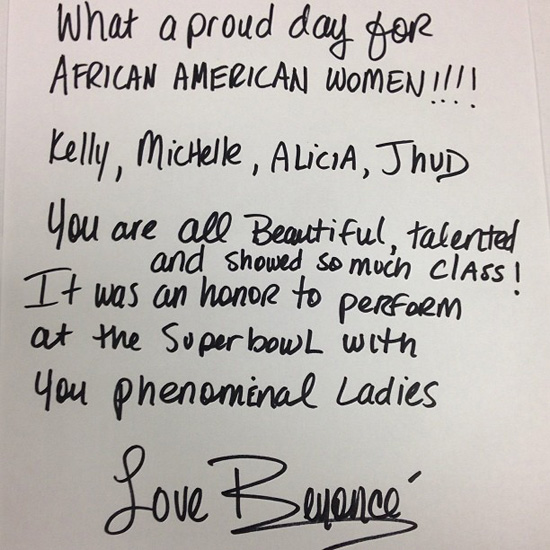 Beyonce also posted a handwritten thank-you note to her Instagram page, giving a shout-out to fellow Super Bowl performers Jennifer Hudson (who sang "America the Beautiful" with the Sandy Hook Elementary School chorus), Alicia Keys (who sang the National Anthem), and her Destiny's Child bandmates Kelly Rowland and Michelle Wiliams — all of whom are African American women, the singer noted.
"What a proud day for African American women!" she wrote. "You are all beautiful, talented and showed so much class. It was an honor to perform at the Super Bowl with you phenomenal ladies."
Be the first to receive breaking news alerts and more stories like this by subscribing to our mailing list.