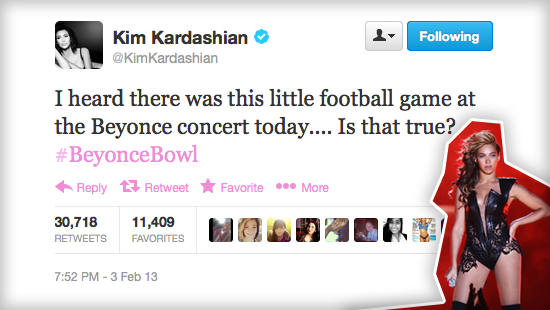 Beyonce BLEW THE ROOF off the Mercedes Benz Super Dome when she headlined the Pepsi-sponsored Super Bowl 47 Halftime Show Sunday night (Feb 3).
In fact, her performance was so electrifying that minutes after she exited the stage, half of the power in the stadium went off, prompting many to wonder whether or not Beyonce had anything to do with it. #BeyonceBrokeTheSuperBowl, y'all!!!
After Beyonce's thrilling performance, the general consensus from Twitter — especially among celebs — was that Beyonce killed it.
Here are 33 celebrity reactions to Beyonce's Super Bowl Halftime show performance:
1. First Lady Michelle Obama
Watching the #SuperBowl with family & friends. @beyonce was phenomenal! I am so proud of her! -mo

— FLOTUS (@FLOTUS) February 4, 2013
2. Oprah Winfrey
BEYONCE!!!!!!!!!!!!

— Oprah Winfrey (@Oprah) February 4, 2013
@bionca haven't seen a lot of them.. But absolutely that was best I've ever seen. She met the moment. #BEYONCEatSuperBowl

— Oprah Winfrey (@Oprah) February 4, 2013
3. Piers Morgan
That was sensational. Madonna, you are officially retired, luv. #Beyonce

— Piers Morgan (@piersmorgan) February 4, 2013
4. Wendy Williams
Yes!!!! B you killed it girl!!!!! #SuperBowl47

— Wendy Williams (@WendyWilliams) February 4, 2013
5. Diddy
King B is my fuckin Hero!!! #KillinIt

— iamdiddy (@iamdiddy) February 4, 2013
6. Bruno Mars
Beyonce got some stamina ! I'd be coughing blood by now

— Bruno Mars (@BrunoMars) February 4, 2013
7. Frank Ocean
bey bodied dat.

— frank ocean (@frank_ocean) February 4, 2013
8. Trey Songz
Ain't nobody sangin (or performing) like B…she's phenomenal. The best to do it, ever.

— Trey Songz (@TreySongz) February 4, 2013
9. Kelly Clarkson
The force and power that is Beyonce just shut the Super Bowl down ha! Too funny!

— Kelly Clarkson (@kelly_clarkson) February 4, 2013
10. Keyshia Cole
Fuck that shit up then Beyonce! Bad bitch central #AllGirlEverything

— Keyshia Cole Gibson (@KeyshiaCole) February 4, 2013
11. Carrie Underwood
…and @beyonce just made all the rest of us singers look stupid! In the most awesome way possible! Way to work it! #BestEverHalftimeShow

— Carrie Underwood (@carrieunderwood) February 4, 2013
12. Justin Timberlake
Yes, B. Yes. Roasted that… #KINGBEY

— Justin Timberlake(@jtimberlake) February 4, 2013
13. Solange
No. One. Better.

— solange knowles (@solangeknowles) February 4, 2013
14. Jamie Foxx
Thrilled 2 C @beyonce + @destinyschild doing their thing again! You feel me?

— Jamie Foxx (@iamjamiefoxx) February 4, 2013
15. Alicia Keys
3 sista's at the superbowl! 😉 Me, @beyonce & @iamjhud ! Cheers!! What an unforgettable day!! #SB47

— Alicia Keys (@aliciakeys) February 4, 2013
Be the first to receive breaking news alerts and more stories like this by subscribing to our mailing list.