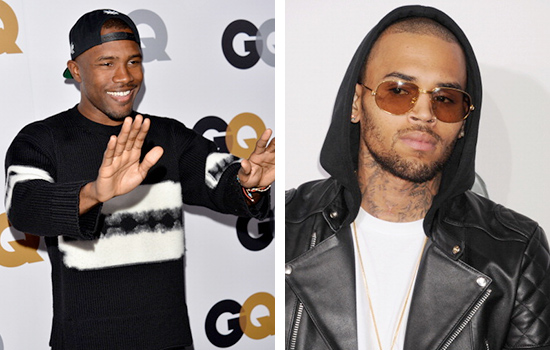 Frank Ocean announced through his Tumblr page that he has decided not to press charges against Chris Brown following their highly publicized "parking lot brawl" earlier this week.
Though he said Chris Brown and his boys had "jumped him" outside a West Hollywood parking lot studio Sunday (Jan 27), and earlier this week a spokesman for the Los Angeles County Sheriff's Department had said that Ocean intended to press charges against Brown, it seems as though the singer/songwriter has had a change of heart about the incident.
He posted to his Tumblr:
as a child i thought if someone jumped me it would result in me murdering or mutilating a man. but as a man i am not a killer. i'm an artist and a modern person. i'll choose sanity. no criminal charges. no civil lawsuit. forgiveness, albeit difficult, is wisdom. peace, albeit trite, is what i want in my short life. peace.
This is good news for Chris Brown, whose 5-year probation could have been revoked had he been formally charged for the fight.
But he's not totally out of the clear though. Steve Cron, a defense attorney not connected with the case, told Reuters that the judge overseeing the case could find Brown in violation of his probation, despite Frank Ocean's decision to forgo pressing his own charges.
If Brown is found guilty of violating his probation, the judge could either send him to jail, or order him to attend counseling, Cron said. Though, since Ocean — the "victim" in the case — has decided that he doesn't want to press charges, it would be difficult to proceed with the case from this point.
Looks like Chris Brown may have dodged a bullet.
Be the first to receive breaking news alerts and more stories like this by subscribing to our mailing list.