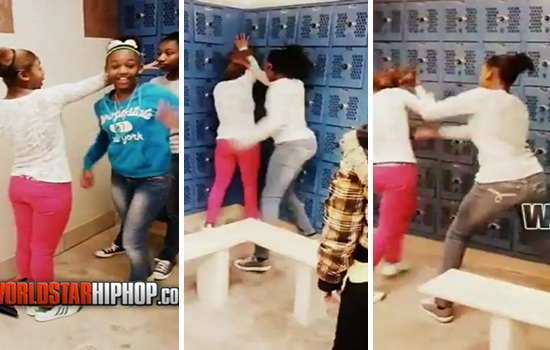 WorldStarHipHop.com is known for its ratchet content and fight videos, but one particular fight video has gone viral on Twitter, and it's got EVERYONE talking.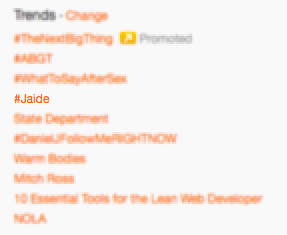 If you've been on the popular social networking site at all today, you may have seen the hashtag #Jaide trending.
Once you click on the link, you'll see a bunch of tweets about a fight video posted to WorldStarHipHop that shows two young high school-aged girls scrapping in a locker room filled with other girls who are egging them on.
One of the fighting girls' names is assumed to be "Jaide."
The video clip (above) opens up with Jaide (the one wearing pink pants) calling another girl in a corner of the locker room a bitch, while a group of teenage girls — including the cameragirl — laugh and tease the silent, blank-faced bullying "victim."
As the camera rolls, Jaide gets closer and closer to the other girl, as the other girls in the room laugh and taunt her about how close Jaide is to her. One girl even steps in and measures the distance between Jaide and the other girl with her feet. "About 2 and a half feet," she says.
Continuing her taunts, Jaide then asks the other girl, "If I touch you, will you hit me?" and reaches out and touches her face. At that point, the victim of the bullying has had enough, and she proceeds to give Jaide one helluva beatdown!
The fight breaks up for a quick minute, but then Jaide tries to go after the other girl once more … and gets her ass beat AGAIN, without her being able to land not even ONE punch, as her friends stand there with dismay.
After their second round of fighting, Jaide goes to the mirror to assess the damage done to her face, and fix her messed up hair. Surprisingly, the fight doesn't even end there, as Jaide wants to fight the girl AGAIN, for the THIRD time.
You know how they say "third's time the charm?" Well that wasn't the case at all when it came to Jaide's fighting skills, cause homegirl got that ass beat A-GAIN!
So in this case … the bully got OWNED! Serves her right.
The video, since its posting early Friday morning (Feb 1), has been viewed nearly 2 million times on WSSH (as of 6 PM est Friday), and everybody is talking about it on Twitter:
Yes, that last tweet is actually from Bow Wow. SMDH.
And just in case you were wondering what Jaide thinks about her newfound WSHH fame, this is what she tweeted early this morning: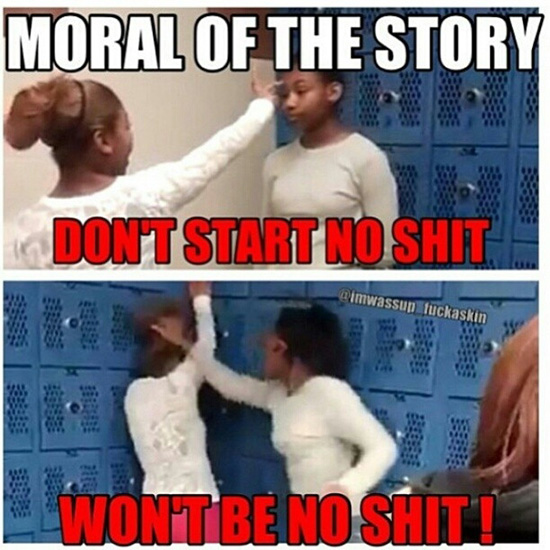 Welp. That's a pretty good story moral.
Internet, what would do without you?
Be the first to receive breaking news alerts and more stories like this by subscribing to our mailing list.