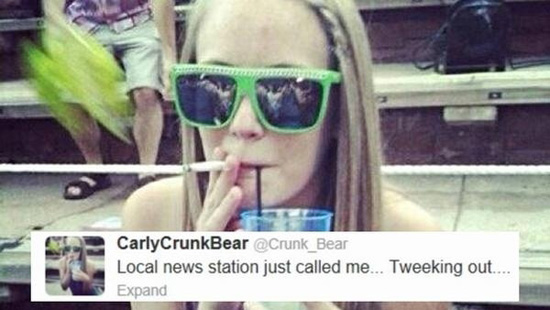 A 23-year-old, first year, high school teacher has been put on an administrative leave after provocative pictures and talk of drug use appeared on her Twitter account.
Carly McKinney, who teaches math at Overland High School in Aurora, Colorado, goes by the Twitter handle @CarlyCrunkBear and has some pretty interesting tweets to say the least.
Well, had. The twitter account has since been deleted, and someone else is now apparently running a new page with the same handle as a running joke.
"Just got called Ms. McCutie. Points for being clever, however you are still jailbait," McKinney said in one of the original tweets.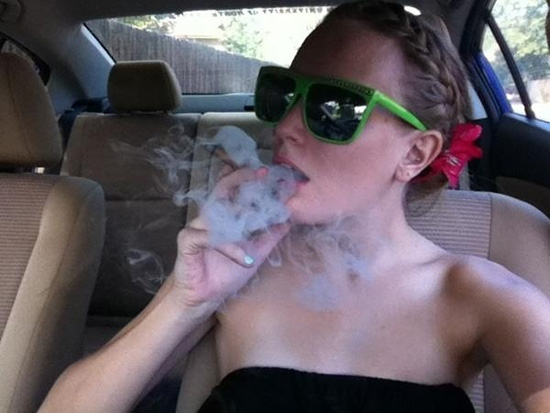 Comparable to Cameron Diaz' character in the movie "Bad Teacher," McKinney, an apparent pothead, also alluded to lots and lots of recreational drug use in her tweets.
"Watching a drug bust go down in the parking lot. It's funny cuz I have weed in my car in the staff parking lot," read one tweet. "Such an easy day… Can't wait to roll up after school," read another.
While the state of Colorado has legalized recreational marijuana use, bringing drugs to school is definitely illegal.
In addition to the not-so-smart drug confessions on the social media site, McKinney also tweeted out some pictures of herself in very compromising positions. The pictures also included some of her not dressed.
McKinney claims that the Twitter account was created by her and a friend as a parody account and that all the controversial tweets and pictures were posted by her friend. She also denied being in possession of drugs and using drugs.
According to a report from Colorado's 9News:
The school district says employees are trained about social media use. They are given a rule of thumb: Don't put anything on the internet that you wouldn't put on your classroom chalkboard. At the same time, teachers also have first amendment rights to free speech, especially when it comes to personal social media sites.
McKinney has been put on administrative leave until further notice, and though she answered a few questions from 9News over the phone, McKinney declined an on-camera interview, as she has been instructed by school administrations not to speak with the media without their permission.
Be the first to receive breaking news alerts and more stories like this by subscribing to our mailing list.