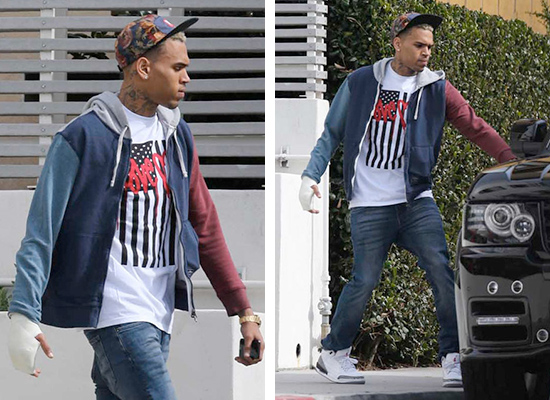 Looks like Frank Ocean wasn't the only one injured after his parking lot brawl with Chris Brown.
Photographers snapped a few pics of Brown on his way out of his house Tuesday afternoon (Jan 29) wearing what appears to be a hard cast on his right hand, indicative of some type of injury, most likely from punching something, or someONE … like Frank Ocean.
Now, we're no medical experts or anything like that, but you'd have to punch a person pretty damn hard to require a hard cast, right?
Earlier this week, TMZ reported that Chris wanted to talk to police to give his side of the story, and Brown's camp had hoped to defend him with video surveillance footage showing that he wasn't involved with the fight and didn't throw a single punch.
However, there's a few problems with that argument. For one, the video footage also clears Frank Ocean, who also isn't seen taking a swing at anyone.
Also, the footage only captured the last few moments of the fight, which started outside in the parking lot, and spilled over into the lobby of the recording studio. So you really can't tell who started it, since neither Brown nor Ocean are seen throwing blows.
And let's not forget about that cast Chris is wearing. Chris is right-handed, and it is a natural instinct to throw your first punch with your most dominant hand.
So … for someone who denies being the aggressor in the fight (allegedly over a VIP parking space), why is his punching hand in a cast?
Let's not jump to any conclusions though. Chris Brown, being the upstanding American citizen that he is, could very well be telling the truth.
Maybe he didn't punch Frank Ocean. Maybe he was just so mad about the incident, and how horrible the media treats him (for NO reason AT ALL — Chris Brown is such a good, positive person who doesn't hurt ANYBODY!) that he hit a glass wall out of complete anger, or something.
After-all, he is known for his temper tantrums and his hatred of glass walls.
Be the first to receive breaking news alerts and more stories like this by subscribing to our mailing list.