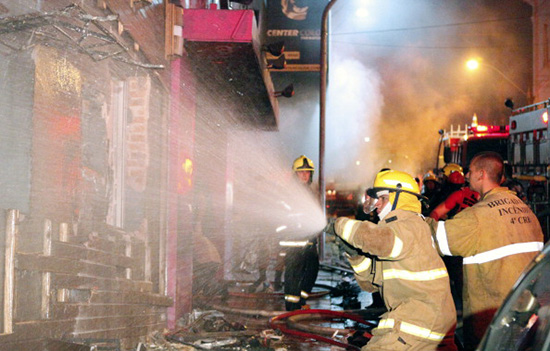 A horrible, horrible decision made on behalf of the band that was playing the night a fire ripped through a Brazilian nightclub earlier this week and killed over 200 people was apparently the cause of the massive blaze.
After conducting a thorough investigation into the fire, police believe that flares designed for outdoor use only were inappropriately used that fateful night, which when lit, caused the entire ceiling to catch on fire.
Police inspector Marcelo Arigony said in a news conference on Tuesday (Jan 29) that "the flare was for outdoor use only and the people who lit them know that."
According to Brazilian fire officials, when the fire broke out Sunday night, around 2,000 people — double the maximum occupancy of 1,000 — were packed like sardines inside the Kiss nightclub, which reportedly had no sprinklers and no emergency exits.
Arigony said "Any child could have seen that this establishment should not have been open."
The blaze began at around 2:30 am local time, during a performance by Gurizada Fandangueira, a country music band that had made the use of pyrotechnics a trademark of their shows.

Police have said the club's ceiling was covered with an insulating foam made from a combustible material that appeared to have ignited after it came in contact with a spark from a flare lit during the performance.

After the fire extinguisher malfunctioned, the blaze spread throughout the packed club at lightning speed, emitting a thick, toxic smoke. Because Kiss apparently had neither an alarm nor a sprinkler system and only one working exit, the crowd was left to search desperately for a way out.

About 50 of the victims were found in the club's two bathrooms, where the blinding smoke caused them to believe the doors were exits.

Police investigator Arigony said people headed to the bathrooms because the only lights in the dark club were coming from there, and the patrons mistook them for exits.
Regarding the outdoor flares that were stupidly used indoors, Arigony said that the Gurizada Fandangueira country music band — known for its flashy stage shows and pyrotechnics — "chose to buy those because they were cheaper than those that can be used indoors."
The outdoor flares — meant for OUTDOORS only — cost only $1.25 a piece, compared with the $35 price tag for an indoor flare. So basically, the whole thing could have been prevented had the band not decided to cut corners with something as serious as FIRE.
But because of their penny-pinching, 234 people lost their lives, and authorities say more than 120 people remain hospitalized for smoke inhalation and burns, with dozens of them in critical condition.
Be the first to receive breaking news alerts and more stories like this by subscribing to our mailing list.