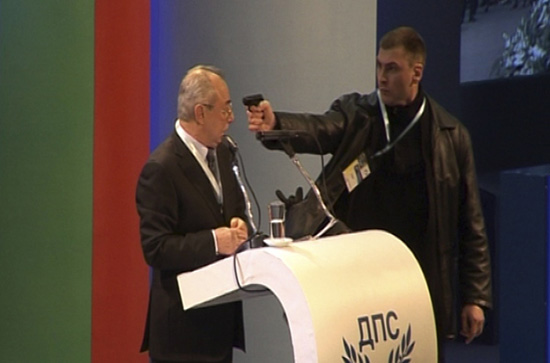 A Bulgarian politician was the victim of a random attack last Saturday (Sep 19) when a man reportedly leapt on stage while he was giving a speech, put a gun to his head and fired … but oddly enough, the gun did NOT go off.
Dressed in a black leather jacket, 25-year-old Oktai Enimehmedov managed to somehow bypass security, and hopped up on stage with the full intention of shooting Ahmed Dogan (the leader of Bulgaria's ethnic Turkish party), but Enimehmedov's plans were foiled as his gun failed to discharge.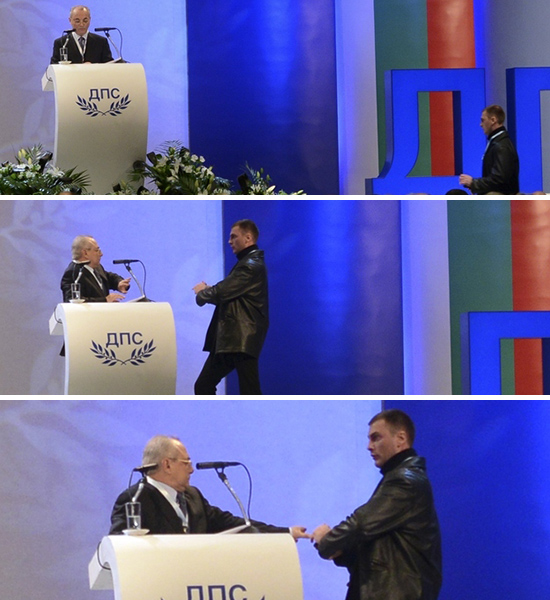 After the weapon doesn't go off, Dogan swats it away from his face, and then Enimehmedov is immediately wrestled to the ground by a number of security guards and other politicians who join in from the audience and all proceed to open multiple cans of whoop-ass on Enimehmedov. The whole scene is quite bizarre and you just have to watch for yourself below:
But wait. It's not what it looks like! What makes this already strange story even stranger, is that the botched attack wasn't even an assassination attempt. Enimehmedov apparently brandished a non-lethal gas pistol loaded with pepper-spray, which according to the AP, is used for self-defense, but if fired at close range could cause life-threatening injuries.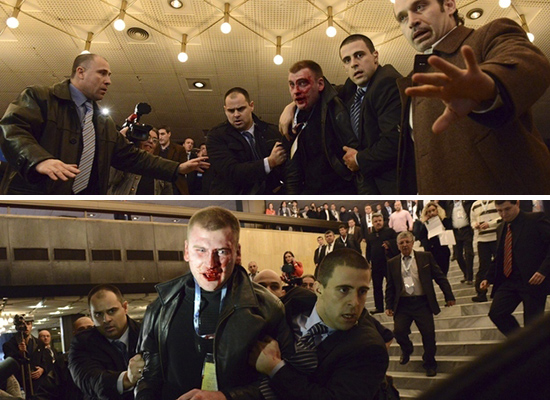 After all was said and done, Enimehmedov was led out of the building with a bloody face and a bruised soul. At his court-hearing, Enimehmedov said before a judge, "I did not intend to kill Ahmed Dogan. I just intended to scare him." Ahmed Dogan has reportedly led The Movement for Rights and Freedoms for over 20 years, and Saturday's press conference was held to elect a new leader to succeed him. As for Oktai Enimehmedov, he faces charges of issuing a death threat and "grave hooliganism." If found guilty, he could face up to six years in jail. Other than a tragic 1996 incident in which a former prime minister was found shot dead in his home (and of course this most recent incident), violent attacks against politicians are said to be a rarity in Bulgaria. [BuzzFeed]
Be the first to receive breaking news alerts and more stories like this by subscribing to our mailing list.