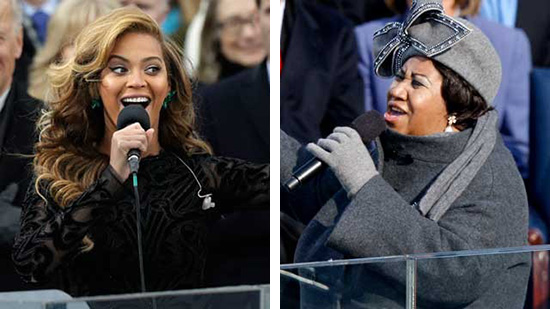 President Obama's second Inauguration has been completely overshadowed by the lip-syncing scandal caused by Beyonce's pitch perfect performance of "The National Anthem."
Following her flawless rendition of "The Star-Spangled Banner", media outlets began to swirl that the blonde bombshell actually relied on a per-recorded vocal track rather than using her own voice in real time. It wasn't until Kristin DuBois, Master Sgt. of the U.S. Marine Band, confirmed with ABC News that Bouncy was indeed lip-syncing.
A day after the scandal went viral, The Queen of Soul, Aretha Franklin, has decided to add her two cents to the situation by siding with Beyonce and even going as far as to say, "…next time I'll probably do the same."
The drama started when Master Sgt. Kristin DuBois told the press:
"All music is pre-recorded for the ceremony because there are so many eventualities and conditions that day." She later added, "We performed, live, the band. But we received last-minute word that Beyonce was going to use the pre-recorded vocal track. Those were the instructions we were given. We don't know what the (sic) reason why."
Of the fiasco Ms. Franklin told ABC News that she laughed when she heard Beyonce's performance was pre-recorded.
" I thought it was funny because the weather down there was about 46 or 44 degrees and for most singers that is just not good singing weather." The first lady of Soul later said, "I thought it was really funny, but she did a beautiful job with the pre-record … next time I'll probably do the same."
Further defending the former child of Destiny, Franklin said, "In 2009, I wanted everything to be live and on the real side for the moment as it actually happened. Those were my feelings for my performance, but having come face to face with 28, 22 degrees I am not surprised she pre-recorded.
"She wanted her performance to be what she wanted to be and she realized it wasn't going to be the way she wanted it to be or she was going to be running a risk. That's probably why she pre-recorded exactly how she wanted it to be heard."
Franklin also confessed that she herself is no stranger to lip-syncing, admitting that she pretended to sing live during a performance of "The Star-Spangled Banner" before the Detroit Pistons played the L.A. Lakers in Game 5 of the NBA finals in June of 2004. Wow.
If Aretha Franklin gives you her approval that it's no big deal, then maybe it really isn't a big deal.
In rare situations like these where weather conditions, the pressures of live TV, and keeping in mind that Beyonce was singing in front of the entire world, it's somewhat understandable that she opted to rely on a backing track instead of singing live.
In other words:
LEAVE BEYONCE ALONE! DAMMIT.

Be the first to receive breaking news alerts and more stories like this by subscribing to our mailing list.