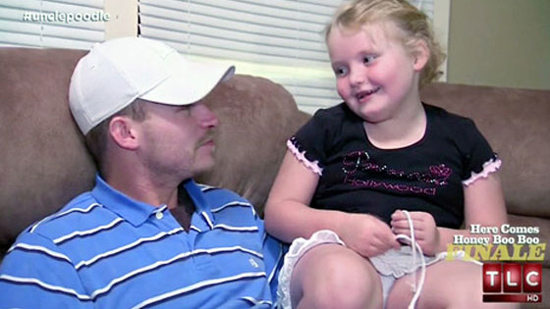 Sad news Skettie Nation: Honey Boo Boo's beloved gay, redneck uncle is now an HIV-positive man.
This unfortunate turn of events has hit Uncle Poodle, whose real name is Lee Thompson, quite hard, since he was infected just last year. He trusted his then-boyfriend, who he was exclusive with.
But Uncle Poodle later learned that his boyfriend, who he was having unprotected sex with, was HIV positive and failed to tell him. He eventually had his ex locked up for infecting him without informing him of his HIV-positive status.
Uncle Poodle revealed the details in an exclusive interview with Fenuxe.
Dino: Lee, when did you find out about your HIV status?

Lee: I was adamant about getting my HIV status checked on a regular basis. On March 16, 2012, I tested negative. Then, in May of 2012 my test results came back positive. I knew it had been my boyfriend who infected me. I later learned he had been HIV positive and was not taking medication and had not bothered to tell me about it. I was advised that I should press charges and, hesitantly, I did. It was the right thing to do.

Dino: What happened to your ex?
Lee: He is serving a 5-year sentence. I would have been cool with his HIV status if he had been honest. I don't have an issue with the disease. I would have known how to protect myself.
This is horrible, horrible news. Our best wishes to Uncle Poodle.
Be the first to receive breaking news alerts and more stories like this by subscribing to our mailing list.