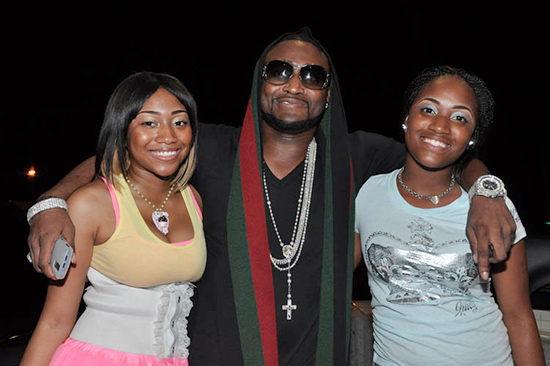 Shawty Lo doesn't understand why people are giving him such a hard time over fathering 11 children with 10 different women, because the rapper says they're ALL taken care of.
According to reports, Lo, his ten babies' mamas and the eleven children he has with them are set to appear on an upcoming reality show on Oxygen, tentatively titled "All My Babies' Mamas."
A preview clip of the series was released last month showing how the Atlanta rapper (born: Carlos Walker) and his nontraditional family structure make it work as a single unit. But critics are saying that the world doesn't need another reality TV show portraying black people in such a negative light.
A writer turned activist even has gone as far as to file a petition through Change.org calling for the show to be pulled before it even airs this Spring. To date, the petition has over 30,000 signatures.
Sabrina Lamb, the woman behind the petition, believes that the show is a form of child exploitation and wasn't amused at what she saw in the 10-minute pilot.
"In the clip I saw, Lo couldn't even remember the names of all of his 11 children. This is not funny to me. What's funny about this?" she told Essence.com in an interview earlier this month.
But Shawty Lo has now gone on the defensive, saying in an interview this week with MTV News takes care of every single one of his kids and "babies' mamas." Well, except for that one difficult baby mama. But the rest of them, they're cool.
"You can hate all you want to, I didn't ask for it. It just happened. Now that it happened, I'm supposed to turn my back against it?" Shawty Lo told MTV News about his 11 children and untraditional family structure. "If I wasn't taking care of my kids then you would really dog me out, but I'm taking care of my kids, providing for my family. I don't know what else to say."

"I take care of all my kids. … Outta all the 10 baby mamas, I just have problems outta one. That's it," he said. "She has two kids by me, and she feel like I'm supposed to do more for her kids, and she don't wanna work. She just want me to straight take care of them, but it's all love. I handle it."
Really? It just happened. On accident. Shawty Lo had eleven kids, with ten different women … on accident. GTFOH!
How can one father nearly a dozen children "on accident" is totally beyond us (or most people, for that matter). But Shawty Lo did it. And he's damn proud of it, too.
Growing up, the ATL trap rapper faced many hardships. His mother was hooked on drugs, his dad wasn't around and his grandmother who raised him died from cancer by the time he turned 17. Having to fend for himself, Shawty Lo turned to the streets to make ends meet.

"I came to be one of the largest drug dealers to come from Atlanta, Bankhead area and I started havin' kids. When the money came, a lot of women came," he said, estimating he was a millionaire by the time he turned 21. "Once you feel like a girl was your girlfriend or whatever, the rubber probably came off," he said candidly. "They wouldn't have an abortion. They used to take the money and run with it, and they'd have a baby by the most popular guy in the street, and that's how I had all them kids."
Whatever you say, Carlos. Just invest in some damn condoms and/or birth control!
Be the first to receive breaking news alerts and more stories like this by subscribing to our mailing list.