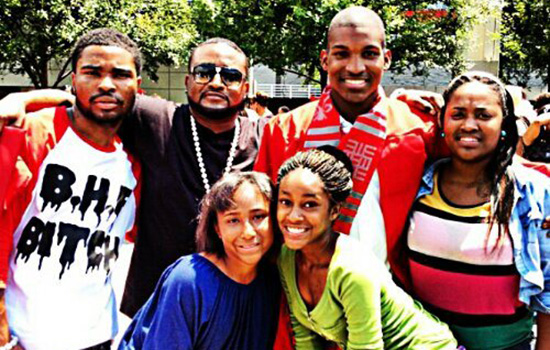 Amid mounting pressure from the public, "All My Babies' Mamas" — the Oxygen reality show that would feature rapper Shawty Lo and his unconventional family that includes 11 kids and 10 different baby mamas — has been canceled, the network confirmed this week.
"As part of our development process, we have reviewed casting and decided not to move forward with the special," a network spokesperson told MTV News in a written statement on Tuesday (January 15). "We will continue to develop compelling content that resonates with our young female viewers and drives the cultural conversation."
A nearly 15-minute pilot for the controversial show, described by Oxygen as a "bold new series," was revealed last month, and it was due to premiere in the Spring.
After the pilot sparked a ton of controversy in the media and online, even spawning a petition on Change.org that received over 37,000 signatures, Oxygen Media reportedly pulled the plug on the series. Sources first revealed the cancellation of the show to The Daily Beast, who spoke with the woman who started the petition.
"My blood curdled just thinking about it," Sabrina Lamb told website. "This show is about more than a rapper and his girlfriends. This is a show about kids who had no choice in how they came into the world. This show sets them up to be ridiculed and made fun of. None of us should be OK with that."
Regarding the people who supported her petition, she said, "I love that the people who've signed the petition are from all backgrounds, ages, and countries. This one elderly white man wrote me and said even he was tired of the stereotypical images of black people."
Meanwhile, Shawty Lo says he understands the concern from the public, but is urging people to give his show a chance.
"They have the right to think that, but at least give the show a chance, to see what's goin' on," Lo pleaded to Atlanta radio station Hot 107.9 Wednesday (Jan. 16). "They makin' their assumptions off a 13-minute trailer and this like the biggest news around the world right now and it's unbelievable."
Kali Bowyer, a spokesman for Shawty Lo (born: Carlos Walker) told RumorFix that they've received over 123,000 e-mails to their Atlanta offices from people who support the show and want to save it. An excerpt from the counter-petition she posted to Change.org reads (sic where needed; and you will need it):
It's a sad day in America, when people attempt to reject a father that steps up to the plate, a father who is actively supporting his children & their mothers , not just monetarily but emotionally as well.

Everyone has a past, especially in hip-hop, however how many take the reins and put their life in motion for change?

A man is supposed to take care of his children, and the mother (s), weather it be singular or plural.

So here's the question, would you rather see 11 children struggle with mothers on welfare? Or watch a man support his children? Does it come down to the race card?

Other networks that currently showcase polygamy, promiscuity, and alcoholism, are on the air, with multiple mothers and magnitudes of children. So what's the difference? Because Shawty Lo is black and a rapper? Yes, I said it he's black, (just in case you didn't already know ).

Shows in comparison such as Sister Wives, show 4 mothers and I can't even count how many kids, one could make the argument that TLC promotes "polygamy ", one could argue that shows such as "Bad Girls Club" promotes "violence" amongst women, or how about the infamous "Jersey Shore" for 5 seasons we watch young men and women drink til they puke and have a magnitude of sexual whoring behavior, making the argument that MTV promotes "alcoholism and unhealthy sexual behavior", but the difference is their white! Come on America!

Support Shawty Lo!
Do you support Shawty Lo's reality show?
Be the first to receive breaking news alerts and more stories like this by subscribing to our mailing list.