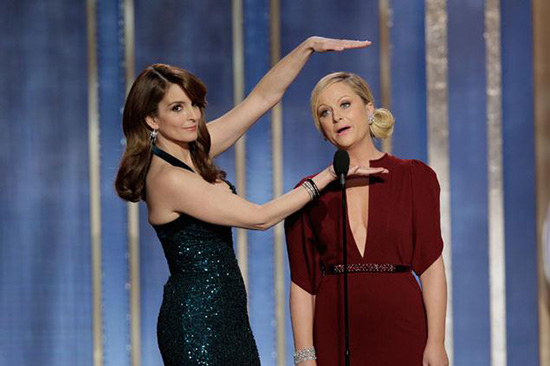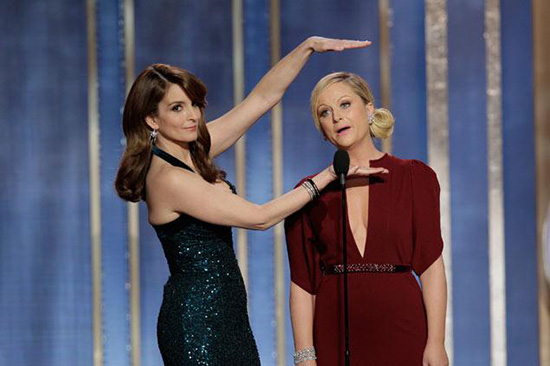 The 70th Annual Golden Globe Awards aired live from Beverly Hills, California Sunday night (Jan 13), and just in case you missed it — or even if you saw it, and want to relive it — in no particular order, here are the 10 most hilarious moments from the 2013 Golden Globes:
1. Anytime Tina Fey and Amy Poehler Were On Stage
This year's Oscars were hosted by comediennes Tina Fey and Amy Poehler, and every moment they were on stage together, pure hilarity ensued. Their opening monologue duologue was especially hilarious. "Only at the Golden Globes do the beautiful people of film rub shoulders with the rat-faced people of television," Poehler joked before she and her co-host unleashed a series of wisecracks and one-liners on Golden Globe nominees.
2. Taylor Swift Not Being Happy About Fellow Nominee Adele Winning the Award for "Best Original Song"
Taylor Swift and Adele — both America's sweethearts — were both nominated in the category for "Best Original" Song, and when Adele won the award, Ms. Swift was none too pleased, and you could see it all in her face when the cameras cut to her as Adele said her acceptance speech up on stage.
3. Tommy Lee Jones' Grumpy Face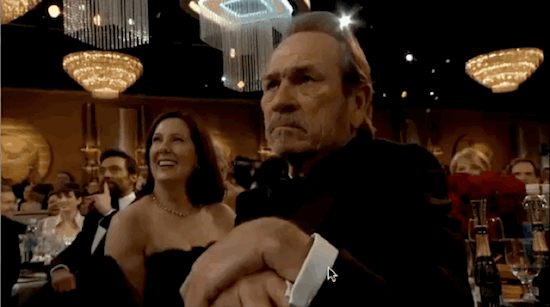 Everyone laughed their asses off when Will Ferrell and Kristen Wiig were up on stage cracking jokes while presenting the award for "Best Actress in a Comedy or Musical." That is, Everyone except Tommy Lee Jones, who was clearly NOT amused. And now, Tommy Lee Jones' "Grumpy Face" is now a glorified Internet Meme that will be enjoyed for years to come!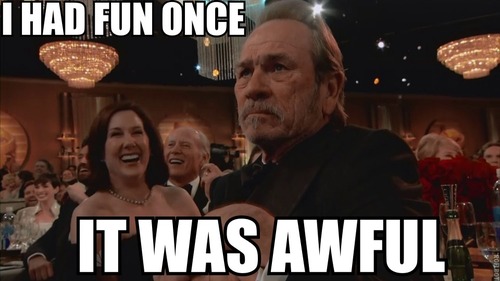 4. Sylvester Stallone and Arnold Schwarzenegger presenting the award for "Best Foreign Language Film"
Who better to present the award for "Best Foreign Language Film" than two people who never sound like they're speaking English whenever they open their mouths to make sound come out? Granted, Arnold Schwarzenegger isn't originally from America, so he almost gets a pass. But Sylvester Stallone was born in New York City, so what is his excuse? "English is for both of us a foreign language," said Arnold, to which Stallone quipped back, "I can't be as bad as you, really. You're horrible!"
5. Glenn Close Acting All "White Girl Wasted"
One of the funniest moments of the show came when Tina Fey and Amy Poehler, clutching glasses filled with liquor, were acting like (were they acting?) drunk women up on stage, and pointed to the crowd and said, "The show has really taken a turn … Look how drunk Glenn Close is!" And Glenn Close, apparently in on the gag, played the part quite well.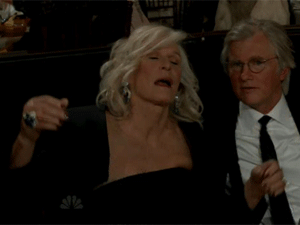 6. Jodie Foster's Rambling Speech
Probably the most memorable moment of the 2013 Golden Globes was when Mel Gibson's only friend Jodie Foster used her time on stage while accepting her Lifetime Achievement Award to act like a crazy lady. She rambled on for what seemed like forever about a bunch of random things, like coming out as a lesbian, privacy issues, making out with Marion Cotillard, spanking Daniel Craig's bottom and how she is NOT Honey Boo Boo Child. "You know, you guys might be surprised, but I am not Honey Boo Boo Child. No, I'm sorry, that's just not me. It never was and it never will be," she said. (Click here for the full transcript)
7. Salma Hayek & Paul Rudd's Awkward Broken Teleprompter Moment

Salma Hayek and Paul Rudd were victims to an incredibly awkward moment when the teleprompter broke right before they were about to introduce the nominees for "Best Television Drama." For about 20 straight seconds, the pair awkwardly stared into the camera and tried to make do with a couple of badly improvised jokes. "Hello … How's everybody going? Good? All right, great," Rudd said. "Okay, something about the best, uh …" Hayek added, right before a video of the nominees started playing.
8. Amy Poehler Canoodling with George Clooney & Tina Fey Nervously Holding Hands with Jennifer Lopez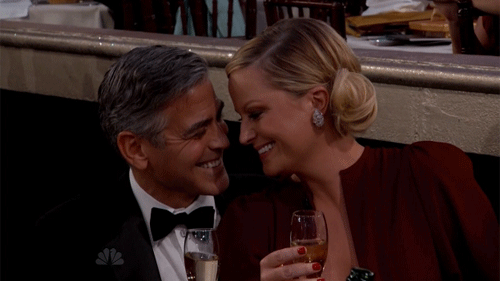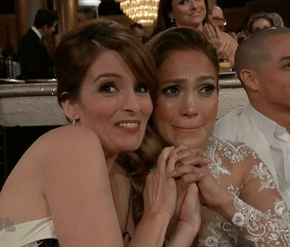 Before the Golden Globe award for "Best Actress in a Comedy" was presented to Lena Dunham, hosts Amy Poehler and Tina Fey had quick appearances during the montage announcing the nominees. The camera panned to one shot of Poehler sitting on George Clooney's lap, canoodling with him (as his girlfriend Stacey Keibler cracks up right beside them), and then to Tina Fey "nervously" holding hands with Jennifer Lopez, and everyone just loved it.
9. Daniel Day Lewis doing the E.T. "finger thing"

Golden Globes Hosts Tina Fey and Amy Poehler were responsible for yet another hilarious moment during the show when they got world-renown method actor Daniel Day-Lewis, winner of the night's award for "Best Actor in a Drama" to do the E.T. "finger thing." Poehler said, "But enough silliness, Daniel Day-Lewis is here. His performance in Lincoln — amazing!" Fey: "He also played E.T. Yes, young Daniel Day-Lewis was ET. Do the finger thing!"
10. Amy Poehler as "Darcy St. Fudge" & Tina Fey as "Damien Francisco"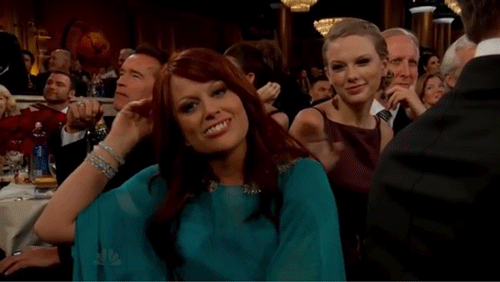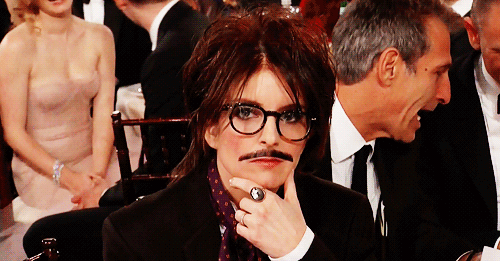 "Dog President" stars Darcy St. Fudge and Damien Francisco were SO robbed at the Golden Globes. But don't feel bad if you've never heard of them. Darcy and Damien were really just hosts Amy Poehler and Tina Fey sitting in the crowd wearing goofy (but also hilarious) disguises and pretending to be nominees for a fake TV movie. And that's what made the whole thing hilarious. St. Fudge starred as "a psychic who solves her own murder," while Francisco played "a professional volleyball player battling Restless Leg Syndrome." Amy Poehler and Tina Fey are so awesome, and they should host ALL awards shows!
Be the first to receive breaking news alerts and more stories like this by subscribing to our mailing list.