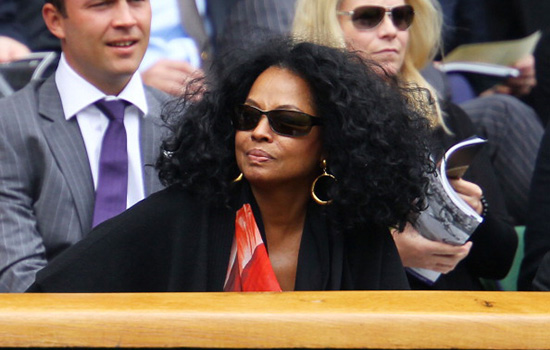 Diana Ross is the supreme diva of all divas, so it's no surprise that she refuses to let those little things called "rules" stop her from enjoying a nice meal with her family.
According to the New York Post, Ms. Ross arrived at an upscale Italian restaurant in Beverly Hills last week to have lunch with one of her daughters when she threw a "supreme hissy fit" after being informed of the fancy eatery's policy of not seating guests until the rest of their party arrives.
No big deal for us regular people, however Diana Ross is no "regular person." She is a diva. And divas do not wait for tables. Tables wait for divas.
Witnesses at the La Scala restaurant say Ross asked to be seated, and after she was denied, she sat herself at a corner booth anyway.
At that point, management came over to once again politely explain their seating policy (using diva language this time, because obviously Ms. Ross didn't understand English the first go round), and basically warned her that if she continued to be difficult, she would not be served.
Of course, Ross being the diva that she is, refused to move, and when her daughter showed up, a scene ensued, and both of them "stormed out of the restaurant."
After hearing about what happened, the restaurant's owner Gigi Leon ran outside, sincerely apologized on behalf of his staff for not treating her how a diva should be treated, and invited her to come back inside to enjoy a free meal on the house.
Just kidding!
He told the NY Post, "I'm sorry that Miss Ross had a problem with that and she feels that the rules didn't apply to her. Our policy is that we don't sit incomplete parties. If people jump the line, our policy is we don't serve them, and she was told that. We treat everyone the same whether you're famous or not. We love having her as a customer. We'd be happy to have her back."
Such a stupid policy anyway, if you ask us.
Be the first to receive breaking news alerts and more stories like this by subscribing to our mailing list.