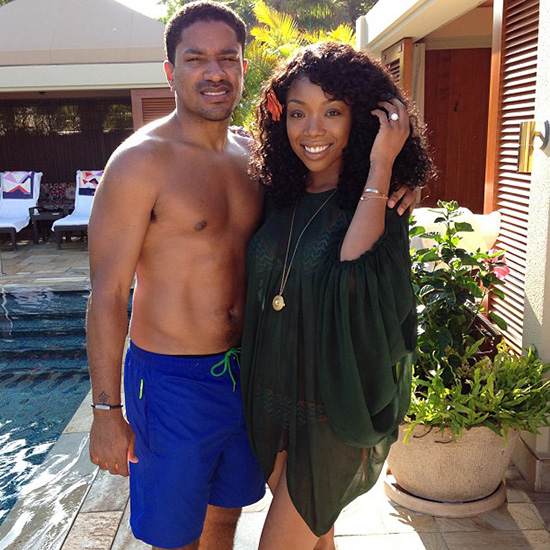 Brandy is getting married … but for real this time! The 33-year-old R&B singer shared the happy news with a photo she posted to Instagram over the weekend, showing her brand new engagement ring and her shirtless fiancee Ryan Press.
The couple are currently vacationing in Hawaii, and Ryan capped off the romantic getaway with a proposal, which Brandy's reps confirmed to Reuters last Thursday (Dec 27).
Though this will be Brandy's first time down the aisle, it won't be the first time she's announced a marriage.
You see, years ago, Brandy got pregnant by her boyfriend at the time, music producer Robert Smith, so to save face, her camp advised her to tell everyone she had already gotten secretly married … because God forbid everyone finding out that America's little sweetheart was having a baby out of wedlock.
That following year, Brandy and Robert separated, and it wasn't until 2004 that Smith revealed that the pair had never actually gotten married, but made it look that way to preserve Brandy's public image.
In later interviews, Brandy explained that though she and her husband never married on paper, they both regarded their relationship as a "spiritual union and true commitment to each other."
Brandy and Robert's daughter Sy'rai Smith is now 10 years old, and she "loves Ryan, and he loves me for sure," Brandy told People magazine back in March.
The couple haven't announced a wedding date just yet, but 2013 will be a pretty busy year for the singer/actor, who has an upcoming tour, as well as a new movie coming out in the Spring.
Brandy's latest album, "Two Eleven," debuted in October at No. 1 on Billboard's R&B/Hip-Hop Albums chart, and she's also starring in Tyler Perry's "Temptation: Confessions of a Marriage Counselor," due out March 29th.
Be the first to receive breaking news alerts and more stories like this by subscribing to our mailing list.