Believe it or not, we all have a little "ratchet" in us … even Beyonce!
Over the weekend, the singer shared a set of new photos on her Instagram account. In one of the photos, she's wearing an interesting pair of gold door knocker earrings that have the word "Ratchet" inside of them. And in a previously released pic, she's showing off the "ratchet" earrings by themselves along with a pair of flats.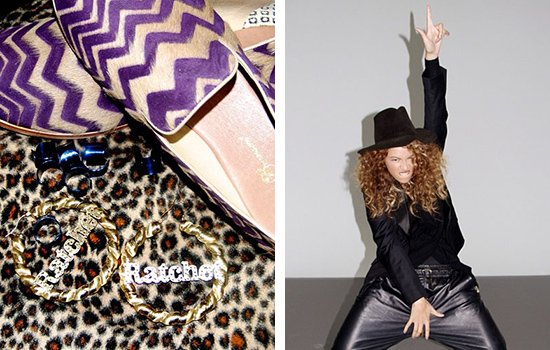 There's also some other pics, including a couple of her channeling the late Michael Jackson … but everyone's talking about the "ratchet" pics!
The word "ratchet" is used to describe things or people that are out of control, and has become a popular term in 2012, especially in the Hip Hop community. Used in a sentence: "The cast of Love & Hip Hop Atlanta is ratchet as hell!"
So why on earth would Beyonce associate herself with a word like that?
Well, they say that's the name of the first single from her upcoming fifth studio album. And those who claim to have already heard the song say that it's a certified banger!
According to an exclusive report from Media Take Out — whose track record of truthful reporting actually is improving, we must say — Beyonce's team has been going above and beyond to make sure that her new music doesn't leak, but someone was somehow able to play the song for the website on their iPhone.
"The song sounded AMAZING. Had us bouncing up and down and er'rything!!" MTO reported Sunday (Dec 30), adding that she could possibly have a "MEGA HIT ALBUM on her hands."
According to MTV News, Beyonce's teaming up with artists like Kanye West, Miguel, Hit-Boy, Ryan Tedder and possibly even Jay-Z for her next album, due out sometime in 2013.
Beyonce's producer The Dream — who says that he's involved in every aspect of the new album — recently told Billboard, "She's got her stuff going. She took the summer to start recording, and now she's in a place where she's ready to start gearing up to reveal her plan."
He added, "I'm sure there will probably be a couple records you hear before the Super Bowl gets here."
Let's see:
1.) Brand new (possibly "Ratchet") single
2.) Super Bowl Halftime show performance
3.) HBO Documentary
4.) Brand new album
5.) $50 Million deal with Pepsi, and her own friggin soda can!
Like it or not, 2013 will be the year of Beyonce!
Are you excited?!? No? Too bad!
Be the first to receive breaking news alerts and more stories like this by subscribing to our mailing list.