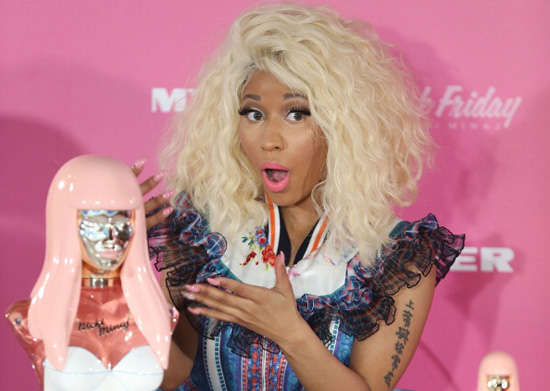 If you're Team Minaj, there's probably only one thing on your wish list this Christmas: The return of Head Barb to Twitter.
After the nominations for the Grammys came out, it's been nothing but tumbleweeds over at Nicki Minaj's official account on Twitter. It's been 12 days since the star last tweeted, which is odd, since she's one of the more prolific tweeters in the music industry.
Her last tweet was a benign thing about her MAC Cosmetics promo:
Ok barbz, looks like you've already trended #LavenderIsTheNewPink – Lets wait for @maccosmetics to tweet the brand new visual!!! =) mmuuaah!

— Nicki Minaj (@NICKIMINAJ) December 5, 2012
Minaj was reportedly offended by the Grammy snub and her manager, Cortez Bryant, let loose on Twitter about how upset he and Team Nicki were by the Grammys' decision to overlook the hottest female MC, according to a report from Global Grind:
"Congrats to @LilTunechi and @Drake and @Hit_Boy on their Grammy Noms butttt they was on some bullshit for not nominating @NICKIMINAJ"
This isn't the first time Nicki has taken a break from Twitter. She famously sent her fans into hyperventilation mode when she deleted her Twitter account when she felt fans were being "ungrateful" after she got into it with a fan site for "leaking" clips of her new music.
But her fans are hardly to blame for the Grammys refusing to nominate Nicki's sophomore album, Pink Friday: Roman Reloaded. So why punish them? Or maybe it has to do with some fans AGREEING with the Grammys snub.
Guys, Nicki blocked me because I tweeted that I thought it was 'somewhat understandable' that she didn't get any noms.

— NickiBlocks (@NickiSlays) December 6, 2012
Oops. Team Barbz, this might be a long, lonely, Christmas for y'all.
Be the first to receive breaking news alerts and more stories like this by subscribing to our mailing list.