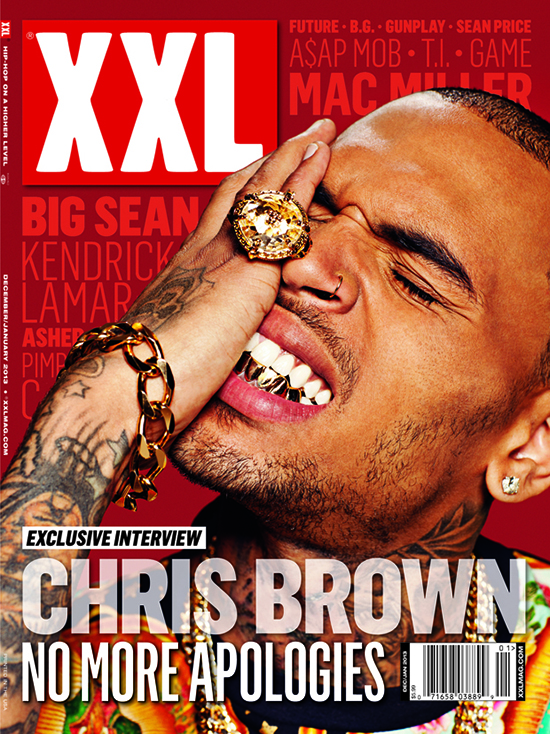 Chris Brown is featured on the cover of the latest issue of XXL magazine — on stands today — and inside, the singer talks about his temper, the Drake fight, and ironically, how he only uses his Twitter for marketing purposes and not engaging in strongly worded fights with white women.
Brown also talks about how he uses his artwork and music to "try to promote positivity and love," which, we have to admit is pretty funny, considering how he told that lady to take her teeth out when she sucks his dick, among other unforgettable phrases from his impeccable locution.
On his temper:
"In the beginning, I used to be hot. I'm normal. I'm human, so if anybody says something that's a lie, I'm numb to it. I've smartened up."
On his fight with Drake:
"A lot of people wanna know about the whole situation with me, Drake and Meek Mill. At the end of the day, I'm me, they're them. They rap, I sing. Totally different caliber. I rap, I play around on mixtapes. But our words don't collide as much as you'd think."
On his 'growth' and 'maturity':
"I haven't been as mature and thought out in the past, so, me growing now, it's showing my progression. I used to use my Twitter account to vent, but now I mostly use it for marketing and promotions. Even if the media asks me something, if it's cool then it's, 'What's up?' But if it's anything that's too negative, I don't care to respond."
On his love life:
"One thing people often want me to talk about is my public love life. When it comes to my love life, the perception seems as though I am a player. But that's not true. Love is something I am still learning. It's just an obstacle that I haven't yet mastered. I think that's my biggest hurdle in life."
On his music and artwork:
"I use music or painting as my outlet to get through the confusion. I try to promote positivity and love."
If only Chris Brown applied the bolded portions to his every day thought patterns.
Be the first to receive breaking news alerts and more stories like this by subscribing to our mailing list.