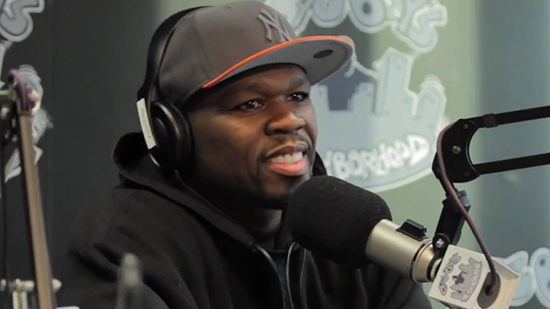 Curtis Jackson has never been one to bite his tongue. His most recent stop through Power 106 in Los Angeles found 50 Cent opening up about his ambitions for the next year. 50 Cent let it be known that he has more gas in the tank when he expressed, "I don't feel like I've made my best song yet."
50 Cent also informed Big Boy that he is working on crafting a set for his new material that would be featured on his upcoming tour. Considering 50's acting chops, this may not be a bad idea to once again make himself a relevant superstar musically.
50 goes on to express his frustrations with today's average Hip Hop live performance. Curtis Jackson asserts, "Imagine if the show was the actual CD… everything that you're looking to hear is there." 50 even admitted that his past tour efforts lacked in the showmanship category and even referred to them as "muscle shows."
50 also offered some veteran advice to hip-hop's newest teenage superstar Chief Keef. Fiddy and Wiz Khalifa are featured on Chief Keef's upcoming single "Hate Being Sober." The two established stars made time in their schedule to shoot a video with Chief Keef, but the latter failed to make it to the video shoot. His own video shoot, at that.
50 Cent explained, "He didn't show up. I'm a Chief Keef fan, I like what he is. He's something that has been completely created by the environment. It's what Hip Hop was initially. Hip Hop is pop music now."
The rapper continued, "His age says my son would be Chief Keef if we didn't make it. I look at that and go, 'I like that.' He can blossom and grow into something better.
"The video still ain't shot. They saying they gonna put the song out as the CD comes out. The song is supposed to build the motivation to sell the CD. I'm like, 'How you gonna sell records like that?' They basically saying they can sell CDs from their viral clips."
As a veteran in the Hip Hop industry and one of it's highest earners in history, 50's words of advice should not be taken lightly.
Chief Keef has undoubtedly built an online following, but if he does not prepare for his big commercial release, he could be facing low sales when Finally Rich — his debut album — drops on December 18th.
Watch 50 Cent's interview with Big Boy's Neighborhood below:
Be the first to receive breaking news alerts and more stories like this by subscribing to our mailing list.