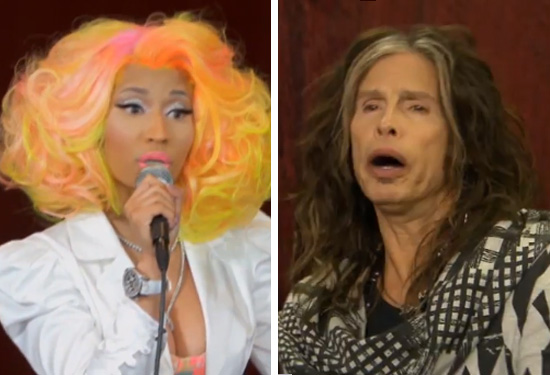 Nicki Minaj just can't stay out of cat fights. First, she scrapped with her "American Idol" co-star Mariah Carey, and now she's embroiled in a tit for tat with former "Idol" judge Steven Tyler.
The whole brouhaha started when Steven threw Nicki Minaj into one of his rants about "Idol" unsolicited:
"These kids, they just got out of a car from the Midwest somewhere and they're in New York City, they're scared to death; you're not going to get the best [out of them]. If it was Bob Dylan, Nicki Minaj would have had him sent to the cornfield! Whereas, if it was Bob Dylan with us, we would have brought the best of him out, as we did with [last season's winner] Phillip Phillips. Just saying."
Nicki didn't take kindly to Tyler's critiques but she took the bizarre stance that Tyler's comments were somehow racist, because he was assuming that a black woman wouldn't be able to appreciate Dylan's quirky musical genius.
Steven Tyler said I would have sent Bob Dylan to a cornfield??? Steven, you haven't seen me judge one single solitary contestant yet!

— Nicki Minaj (@NICKIMINAJ) November 26, 2012
I understand you really wanted to keep your job but take that up with the producers. I haven't done anything to you. That's a racist comment

— Nicki Minaj (@NICKIMINAJ) November 26, 2012
You assume that I wouldn't have liked Bob Dylan??? why? black? rapper? what? go fuck yourself and worry about yourself babe.

— Nicki Minaj (@NICKIMINAJ) November 26, 2012
Even though Nicki's racist accusation didn't make a whole lot of sense, once she played the race card, Tyler quickly backed down. He issued a mea culpa to Nicki publicly in a press interview and insisted he was "the last thing on this planet as far being a racist."
They both need to go to their own corners and just sit.
Steven Tyler is out here lookin' like somebody's grandma with his scary bed head and Nicki is out here picking fights with senior citizens who can barely control their bladder. "American Idol" is not worth all of this strife.
Nobody remembers who lost or won two months after the damn thing's over, so just forget about it.
Be the first to receive breaking news alerts and more stories like this by subscribing to our mailing list.