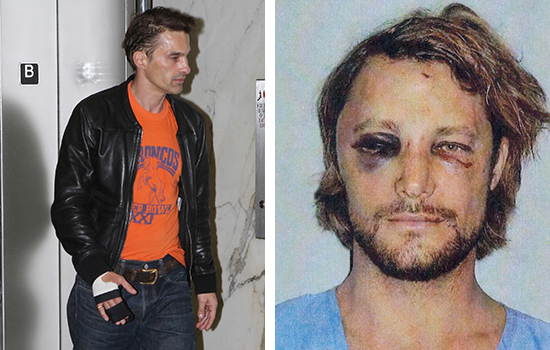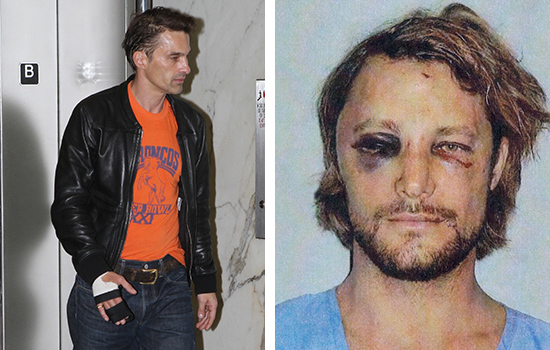 The details about the brutal beat-down that happened over the Thanksgiving holiday have been all over the web this week. And now that the devastating photos of Gabriel Aubry's bruised and battered face have surfaced, it's hard to understand what could've started such a violent encounter.
So far, Aubry's side of the story has been unheard, but RadarOnline.com clearly has a source close to Aubry as they've been leaking details of the story that paint him in a more flattering light. TMZ, on the other hand, appears to be staunchly pro-Halle/Olivier, as they've stuck to their version of events more.
According to the sworn declaration of events by Aubry, as reported by Radar Online, Olivier was the instigator in the fight.
According to the sworn declaration within his TRO application, Gabriel took Nahla to her school play the day before Thanksgiving. Halle and Olivier also went and Aubry alleges that Olivier walked up to him and whispered in French in his ear: "I wish I could beat the s**t out of you right now. You're lucky we're in a school right now. We're going to take Nahla right now and you're not going to follow us."

The following day, Gabriel arrived at Halle's home with Nahla around 10 a.m. Gabriel states in his declaration that contrary to their usual arrangement, Olivier was the first to come out of the door – stating that normally he is met by a nanny. Gabriel then claims in his TRO application that Olivier said: "We need to talk."

Gabriel goes on to allege that he turned his back on Olivier and walked towards his car. Gabriel then claims in the court documents that Olivier jumped off the stairs and knocked him to the ground before brutally beating him. Gabriel also claims in his sworn declaration that Olivier screamed that he has cost them $3 million in their custody battle.

Gabriel then claims in the court documents that Olivier took his head in his hands and slammed it on the concrete driveway and raged that the family was going to move to Paris and Gabriel should follow too or Olivier would kill him.

Then, Gabriel claims in his sworn declaration, Olivier said, "We called the cops," and when they arrive, "you're going to tell them that you're the one who attacked me, or I'm going to kill you."
Olivier's side of the story was that he merely tried to "talk" things over with Aubry. TMZ's version of events painted a much "lighter" tale.
Gabriel showed up at Halle's doorstep with Nahla for a custodial hand-off. We're told Gabriel was inside the house when Olivier walked up to him and said, "We have to move on."

According to witnesses, Gabriel then pushed Olivier and threw a punch at his face, but Olivier blocked it and the punch struck him in the shoulder instead. We're told Gabriel then pushed Olivier to the ground, and Olivier cold-cocked him in the face, and a struggle ensued, ending with Olivier pinning Gabriel to the ground.

In the struggle, Gabriel suffered a broken rib, contusions on his face, and possibly a more serious head injury. Olivier may have broken his hand and suffered neck injuries as well.
As it stands now, there is a restraining order in place against Aubry to stay away from Halle, Olivier and his daughter, Nahla, until Nov. 29 but Radar is reporting that Aubry's visitation has already been reinstated.
One important angle to note is that Aubry is demanding the video footage of the fight from Halle's security cameras. Conveniently, the cameras were "repositioned" so that they didn't capture any footage of the brawl, according to TMZ.
Hmmm. Something smells about this smells fishier than Mama Jones Pumkash perfume.
If Aubry was the instigator, why would he demand the footage if he knew it'd show him as the aggressor? And Olivier does have a reason to be mad at Aubry, since he's clearly the motivating force behind Halle's bid to move to France.
So which side are you on? Team Gabriel or Team Olivier?
Be the first to receive breaking news alerts and more stories like this by subscribing to our mailing list.