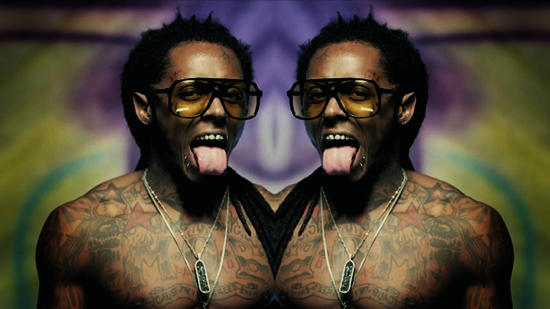 After nearly two decades in the rap game, Lil Wayne has announced that he plans on quitting soon, revealing to MTV that his upcoming "Tha Carter V" album will be his Swan song.
But before that, he plans on releasing his 10th album "I Am Not A Human Being II," because "I know y'all want me around for a little bit, and Carter V is my last album," he told MTV's Sway Calloway. "Man, I've been rappin' since I was 8 years old. I'm 30 now, man. That's a long time, man."
Weezy's next album hits stores on February 19th, and it isn't clear whether or not he will release another album before dropping the the fifth, and final, installment of "Tha Carter."
But what is clear is that Wayne is simply tired of music, and is ready to focus his attention elsewhere, like his newfound love for skateboarding and his TrukFit clothing line. "When I love to do something, I'm fully focused on it and it only. And music sometimes is not that 'it,' " he said.
"I signed my contract at 11, I went platinum at 14. I'm 30 now. Thank God I haven't put out an album that hasn't went platinum," he said. "To just keep it goin' like that, I think not only am I being greedy, I'm fooling myself to think that it will continue to be that great."
Something else that might have inspired Weezy's recent talk of retirement from rap is the fact he plans on being a "happily married" man in the near future.
"Yup. Yeah, man, yup," Wayne told MTV News correspondent Sway Calloway following the world premiere of his new video for "No Worries" when asked if sees himself as a soon-to-be married man. "Happily married too."

Weezy was so excited at the prospect of getting hitched that he drew a pretty funny analogy to one of his favorite sports. "I'll probably run down the aisle," he said in between his trademark giggle. "I'll probably slide into the preacher like it was home plate."
If Wayne does decide to get married, it won't be his first time down the aisle. In 2004, the rapper married his high school sweetheart Toya, but they divorced after two years and have remained good friends ever since, sharing a close relationship that revolves around their teenage daughter Reginae.
Toya has since re-married (to Mickey "Memphitz" Wright), and now it's Wayne's turn. Back in February, there was some speculation that Wayne had gotten engaged to his girlfriend Dhea after he tweeted "She said yes!"
After realizing that he had led everyone to believe he had popped the question, Wayne cleared it up, tweeting the very next day, "Ohhhhhhh now I see why! I meant 'she said yes' to being my valentine!!! Hahahahahahaha! Y'all krazy!"
The jury is still out whether or not Wayne is really engaged as of this moment, but his girlfriend was spotted rocking a HUGE diamond ring at a basketball game just a few short weeks after his "She said yes!" tweet.
Anyhow … Lil Wayne ain't got "No Worries!"
Check out his latest music video below:
Be the first to receive breaking news alerts and more stories like this by subscribing to our mailing list.