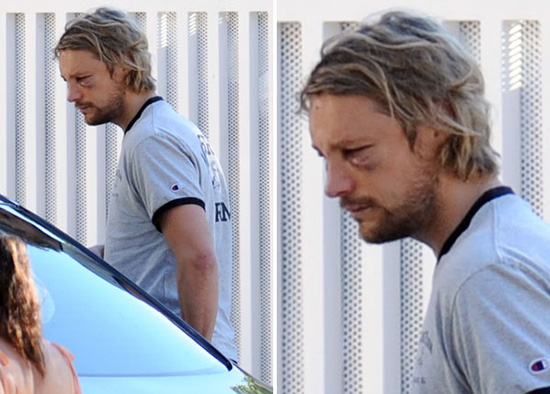 Whoa … look at that shiner on Halle Berry's baby daddy Gabriel Aubry's face!
While you were at home enjoying turkey day with your family, Halle Berry was caught in the middle of an all-out brawl between the two men in her life — her fiancee Olivier Martinez, and her baby daddy Gabriel Aubry.
And as you can probably tell judging by the photo above showing Gabe's black eye … homeboy got his ass handed to him! The swelling on his left eye is so bad that it looks like it's hard for him to even open it completely. (Ouch!)
According to TMZ, who broke the story (because who else?), Gabriel showed up at Halle's house Thanksgiving morning (Thurs, Nov 22) with Nahla to drop her off.
Olivier confronted Gabriel in the driveway, allegedly telling him something around the lines of, "We have to move on," which set Gabe off.
Gabe pushed Olivier and swung, but missed, striking Olivier in the shoulder, instead of his face, which was obviously his intended target. Gabe then pushed Olivier to the ground, and Olivier retaliated by punching Gabe square in the face.
(FYI: Olivier's father was a professional boxer, and Olivier himself boxed competitively for several years before becoming an actor. So … yeah.)
A struggle ensued, and it ended once Olivier pinned Gabe to the ground until police came and arrested Gabe, and transported him to the hospital where he was treated for his injuries — a broken rib, contusions to his face, and a head injury.
Gabe was immediately taken to an L.A. jail where he was booked for misdemeanor battery. He was later released on $20,000 bail and is due back in court in December.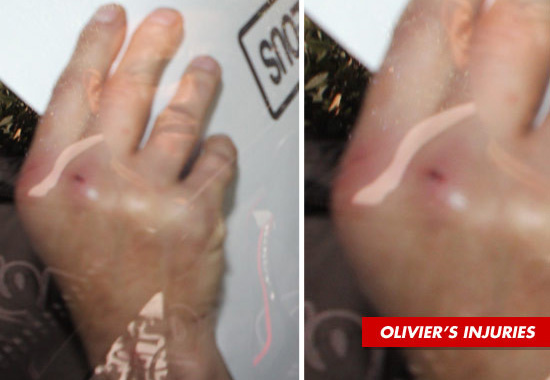 Olivier also suffered a few injuries of his own — a broken hand and neck injuries — and also spent some time in the E.R. (ironically, right down the hall from Gabe) before he returned to Halle's home to savor what was left of their epic Thanksgiving Holiday.
Halle was subsequently awarded an emergency protection order against Gabriel, which states that the French model is not to come within 100 yards of Halle, Olivier or Nahla. Halle is expected to ask the judge this week to extend the order indefinitely.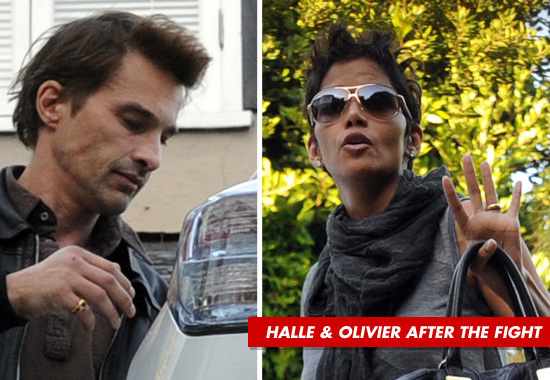 Following their break-up in April 2010, Halle and Gabriel have been engaged in a nasty custody battle, and earlier this month, a judge ruled that Halle wouldn't be able to move to France full-time with Nahla.
TMZ says the specifics of the Thanksgiving fight were "sketchy" because Gabe and Olivier were arguing in French. And if you were wondering where Nahla was during all of this, when Gabriel and Olivier started going at it, Halle rushed her inside the house, so she missed the violent parts.
A source form the LAPD told US Weekly that "the cause of the fight between the two men is unknown" and "the investigation is ongoing."
Another "source" (probably Halle) told People, "Gabriel attacked Olivier and Olivier defended himself."
Regardless of who started what, you have to think about the child, and what she's going to think about all of this when she grows up and reads about all of this on the Internet years from now.
Can't we all just get along?
Be the first to receive breaking news alerts and more stories like this by subscribing to our mailing list.