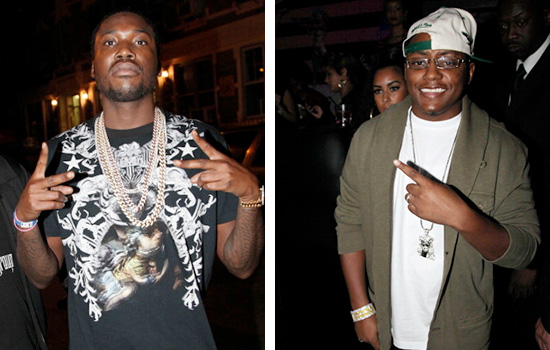 Allegedly Meek Mill said he was open to the idea of battling either Murda Mook or Cassidy for $100K … but since then it looks like Meek has cleared up his initial statement. Meek took to Twitter to clarify that he never actually said he wanted to battle Cassidy or Murda Mook.
"Man I said I wanted mook & cassidy to battle…. Mook the king of that sh-t to me!," he tweeted. "My album hotter than any battle rap u can ever make! #DreamsAndNightmares go get that real sh-t!"
Cassidy then called into Philadelphia's Hot 107.9 and said he was down to battle MMG rapper Meek Mill, and also offered up some compliments for the Hip-Hop newcomer.
"Well, you know, that's what I do, man. I mean, I'm cut from that cloth. I started off with battling so I'm into that but ever since I got a deal and started getting money up in this industry, it wasn't really beneficial for me to battle especially with a bunch of those dudes that are battling all the time," Cassidy explained. "I know I'ma bite they head off but it's like, really, what am I going to get out of it?"
He continued, "Meek got that wave right now, he a household name, bigging him up — we definitely can get a nice crowd, get some crazy sponsors and get some chicken up. So it'll be beneficial for me to do something like that."
The potential battle shocked many since Cassidy and Meek haven't been on the best of terms.
Earlier this year the two rappers got into a twitter spat when Meek told Cassidy to stop hating, when it seemed as if Cassidy felt some type of way about not getting the proper support from his fellow Philly native.
But despite Cassidy's willingness to step into the ring with Meek Mill for a friendly rap battle … Meek Mill says he isn't interested.
He tweeted, "I'm not battling none of these niggas that's not popping! I'm popping some of these niggas gotta pay me 2 do that!"
Well all know if Meek battles Cassidy, that would make Cassidy relevant again, and relevant he is not at this point … though lyrically, Cassidy would probably crush Meek Mill like a beer can at a frat party.
Be the first to receive breaking news alerts and more stories like this by subscribing to our mailing list.