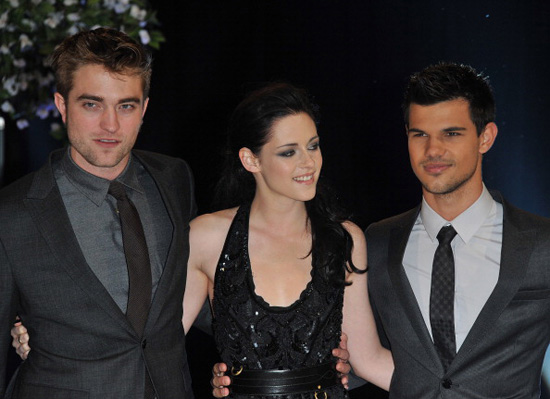 Promotion for "The Twilight Saga: Breaking Dawn Part 2" — the last "Twilight" movie ever — kicked off last month, and it's inevitable that Kristen Stewart's infamous cheating scandal would come up as a topic of discussion in interviews. Sometimes you just can't ignore the pink elephant in the room, no matter how hard you try.
When Taylor Lautner was asked about his "Twilight" co-star, who cheated on Robert Pattinson with her "Snow White and the Huntsman" director Rupert Sanders this past summer, the 20-year-old actor simply said, "Kristen is fantastic at everything she does. I'm always proud of her."
On the topic of cheating, and whether or not a relationship can work out afterward, Lautner told Cosmopolitan Magazine, "To be honest, I've never been involved in any of those situations, so I don't know [if trust can be regained]. It would be just a guess and a shot int he dark, and I don't want to give that if I haven't even been there myself."
And Taylor isn't the only "Twilight" cast member publicly supporting Stewart after her huge cheating scandal. Charlie Bewley and Daniel Cudmore — who both play vampires in the movie — gave their thoughts on the K-Stew/R-Pattz cheating scandal to Us Weekly.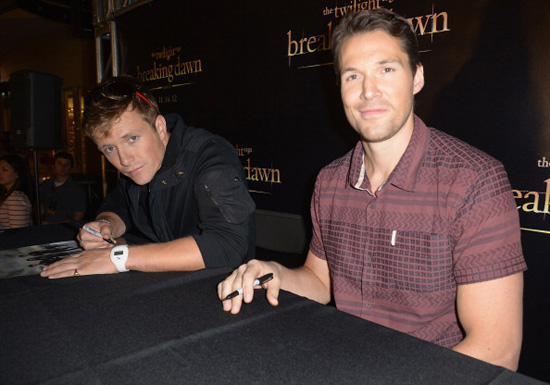 "You know what: I think it's ridiculous that people talk about people's lives, yet we're in an industry where their lives, our lives, are out in the public. "I mean, shit — 22 years old. Think of how many mistakes you made at 22 years old," Cudmore, who is 31, told Us.
"Like, I made a million. The problem is we're in the spotlight, but, whatever. It's a relationship, and people go through ups and downs and they have their problems." Cudmore added, "I remember my twenties. I couldn't be in a relationship that last more than a week."
Bewley, also 31, agreed with his co-star. "Honestly, I used to cheat so much it would be very hypocritical of me to pass judgment on Kristen. I know what it's like to have an inflated libido. Probably why I'm not in a relationship right now."
Sounds like all is forgiven within the "Twilight" clan!
Be the first to receive breaking news alerts and more stories like this by subscribing to our mailing list.