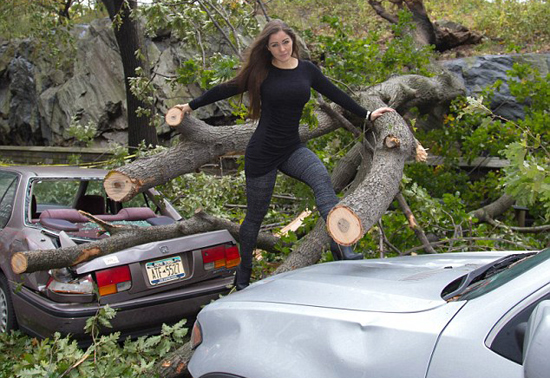 This is what happens when you watch one too many episodes of "America's Next Top Model." A desperate Brazilian model by the name of Nana Gouvea thought she was serving fierce fashion that would make Tyra Banks gag when she decided to hit the streets of New York and pose in front of the hurricane-battered cityscape.
Hurricane Sandy has devastated the city's public transportation system, killed more than 70 people and left a major mess for states up and down the Eastern Seaboard, but all this dumb bitch could see was opportunity.
So she put on her best H&M leggings and slipped into her Target cocktail dress and put on a one-woman fashion show. Yeah, Anna Wintour and Vogue will never be able to resist this sexy bitch.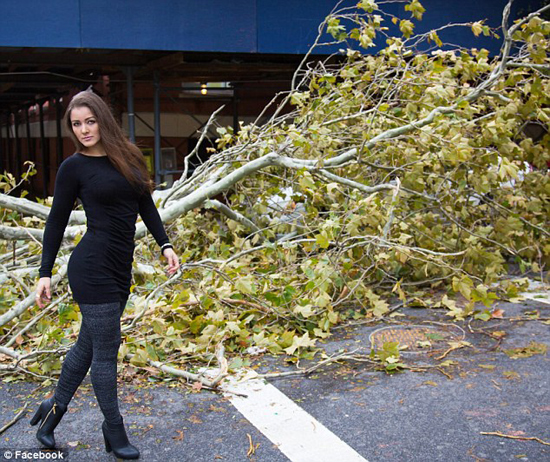 This tactless piece of trash has thankfully been clowned mercilessly by the Internet. Her moronic shots have been Photoshopped to infinity and beyond. Nana's personal comments to EGO, a media outlet from her native Brazil, show her to be a bit braindead and tone deaf — even more so than the pictures.
In Portuguese:"Estou chocada e achando muito engraçada a reação das pessoas. Carlos está dando gargalhadas! Não planejei um ensaio nos destroços. Só quis mostrar como estava a cidade com a passagem do furacão. Por que todo mundo pode fazer fotos de Nova York e eu, não? O que tem demais essas fotos? Não há nada sensual, não estou com roupa decotada, nada. Será que preciso engordar para gostarem de mim? Pois meu marido gosta de me ver gostosinha. Ele merece o meu bumbum durinho. Brasil, eu amo essa terra!"
In English:"I'm shocked and find people's reactions very funny. Carlos [her husband] is guffawing. I didn't plan a shoot in the disaster. I just wanted to show how the city look after the hurricane. Why can everyone take pictures of New York but I can't? What's so over the top about these pictures? There's nothing sensual, I'm not wearing low-cut clothing, nothing. Is it that I need to be fatter for people to like me? Well, my husband likes to see me sexy. He deserves my hard ass. Brazil, I love this country!"
Well, then. It sounds like Nana failed to pass Common Sense 101 cause she's vomiting so much stupid from her mouth at once.
Why not just admit that you were stunting for Instagram and call it a day? That'd be so much more respectable. Then again, if she cared one iota about respect, she wouldn't have hauled herself in front of wreckage in the first place.
Can't wait to see what she picks for her next photo op. How about a trip to South Africa where she rocks an Oscar de la Renta gown in front of starving African children in the slums of Johannesburg? YESSSSSSS!
Be the first to receive breaking news alerts and more stories like this by subscribing to our mailing list.