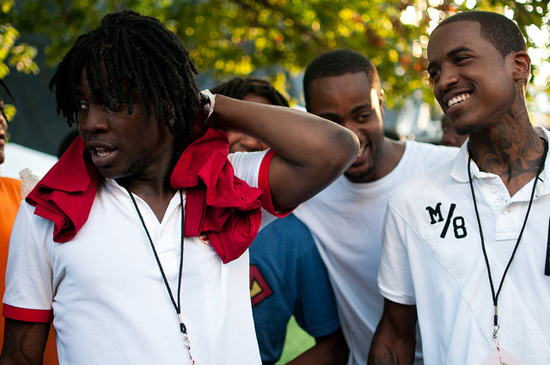 Chicago rapper Chief Keef and his GBE crew just can't seem to shake the negative press that continues to follow them.
While Chief Keef himself deals with a probation violation, and following the drama surrounding the shooting death of another young Chicago rapper Lil JoJo, Keef's rap associate Lil Reese is facing some controversy of his own after a video showing the teen rapper beating up a young woman was posted to WorldStarHipHop.
The shaky camera phone footage shows a young man (Lil Reese) arguing with a young woman at her house. "Who the f**k let them in here though?" the girl says of Reese and his goons.
After a little back-and-forth, the argument turns physical and the two exchange pushes and shoves before Reese unleashes a fury of fists all over that poor girl's face.
Even after the young lady hit the floor, the rapper continued to attack her, kicking and punching her for several seconds as she and her friends screamed in the background, and his friends just watch.
"We up outta hear bitch!" one of the kids is heard in the background saying multiple times before the video stops.
Confirming his presence in the clip, the Def Jam signee tweeted about it as soon as it was posted last night, claiming that it was recorded "years" ago:
The haters tryna see a mf Dwn lol Dey gotta b broke and bored wanna upload sum shit from years ago damnn we winnin it's 2 late…#3hunna

— LilReese300 (@LilReese300) October 25, 2012
In response to his ignorant tweet, in which he blames "bored" and "broke" haters for leaking the footage, some of his more intelligent followers fired back with:
you're a bitch. NO ONE even knows who you are. nigga what are u winning? monopoly? @lilreese300

— Avatar Ro. Lioness (@Ro2Exquisite) October 25, 2012
@lilreese300 haters…..nigga ain't nobody in these here streets hating on no bitch ass woman beater. — Black Ambition (@UrbanGem) October 25, 2012
@lilreese300 Phones wasnt even recording "years ago" Reese.You mud stomped shorty last week dont front. — ShonBaptist (@baptist0007) October 25, 2012
@lilreese300 IDGAF if its from 10 years ago ………u still a sorry MF for that shit…..PERIOD!!!!!!

— JAY SUPERMANAGER (@JAYSUPERMANAGER) October 25, 2012
Some folks are saying the girl in the video is Reese's baby mama, but we have yet to hear that from any credible news sources, though Reese having a kid at his age wouldn't even be a surprise.
And unfortunately, this video is something we would expect from Chief Keef and his crew of ratchet rappers who laugh at and ridicule the death of another young man, then blame "Twitter hackers."
This is clearly unacceptable and something needs to be done about it before these kids grow up thinking that stuff like this is okay.
Be the first to receive breaking news alerts and more stories like this by subscribing to our mailing list.