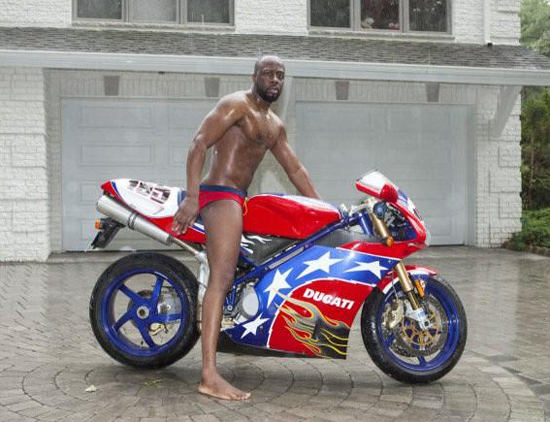 Let's file this one under: When keeping it sexy goes wrong. Very, very, VERY wrong.
Fat Joe told us to "Instagram That Hoe" but Wyclef decided he'd be wise to start off with the hoe in the mirror.
In an attempt to commemorate his 43rd birthday, former Fugees singer/rapper Wyclef Jean decided to strip down to his undies and straddle his Ducati motorcycle for the Twitterati.
TODAY I AM 43 YEARS OLD! I look And feel 26! U cant keep à good Man down! Keep à smile when they want you to frown! twitter.com/wyclef/status/…

— Wyclef Jean (@wyclef) October 17, 2012
What in the blue fuck?
First off, if you're going to attempt to get your Trey Songz on in a desperate midlife crisis fit, at least have the decency to slick the baby oil on your WHOLE body and hire a professional photographer.
Right now, Wyclef is looking a half-seasoned chicken and this impromptu photoshoot on the driveway looks a hot mess. You know the neighbors walked by thinking, "What the hell…?"
Secondly, whoa at the speedo. Really?
If he was interested in showing off his six pack, he could've done that just fine in a pair of jeans or whatever. He's definitely no David Beckham and if "sexy" was Wyclef's goal, then he failed.
This looks more like "I woke up early and went outside to put the trash on the curb before breakfast" than anything approaching sensual.
But kudos to Clef for hitting the gym though. Too many fellas get comfortable with that pregnant, beer belly look. We're looking at you, Rick Ross.
Be the first to receive breaking news alerts and more stories like this by subscribing to our mailing list.