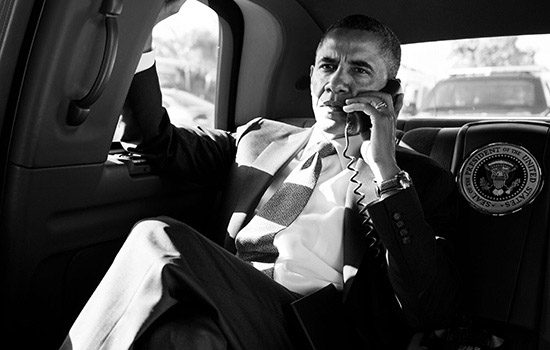 Even the President knows about Mariah Carey and Nicki Minaj's epic "American Idol" catfight. In an interview with Miami radio host Michael Yo's "The Yo Show," President Obama was asked about the verbal dispute between the Pop divas, and had this to say:
"I think that they are going to be able to sort it out, I am confident. I'm all about bringing people together, working for the same cause. I think both outstanding artists are going to be able to make sure that they're moving forward and not going backwards."
Obama was also asked, between Nicki and Mariah, which one was his favorite.
"Mariah, she's actually done some events for us.I've gotten to know her and Nick (Cannon), she's a wonderful lady … Nicki I don't know, but I've got her on my iPod."
As you may remember, this isn't the first time our pop culture friendly president has talked about Nicki Minaj. Just last month, President Obama was asked about the rapstress allegedly endorsing his opponent Mitt Romney on a new track:
I'm not sure that is actually what happened. I think she had a song on there, a little rap that said that… But, she likes to play different characters. So I don't know what's going on there.
Unsurprisingly, President Obama catches a lot of flack for being in tune with recent pop culture events, because 'those people' are all, "He's the president … he should be too busy worrying about jobs and the economy to be knowing what goes on with celebrities."
But honestly, what's the big deal? You can't honestly think the President of the United States of America spends his mornings perusing through Google Reader to find out if R-Pattz and K-Stew are really back together, or whether or not Blue Ivy will be a big sister anytime soon.
Even your grandma knows Nicki Minaj and Mariah Carey got into a catfight.
Can't the man just answer a simple and fun question every now and again? Lighten up!
Be the first to receive breaking news alerts and more stories like this by subscribing to our mailing list.