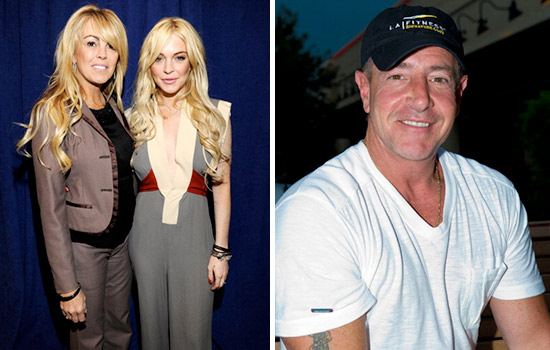 Barely 24 hours after Lindsay Lohan's bizarre blowout with her mom Dina Lohan, the actress has completely backtracked on her accusations that her mother was on cocaine, while also tossing her father Michael Lohan completely under the bus.
"I told my dad a really hurtful and untruthful lie about my mom. She was not on cocaine," Lindsay told TMZ, adding that turning to her father in a moment of desperation was a big mistake, and she is now "done" with him forever.
As we reported yesterday, Dina and Lindsay got into a huge argument on the car ride home after nightclubbing together.
READ/LISTEN: Lindsay Lohan and Momma Dina Get Into Bizarre Fight About $40,000 and Cab Fare
In the middle of their fight, Lindsay called her dad Michael, and accused her mother of being on cocaine and "acting like the devil."
Michael, under the impression that Lindsay was being held hostage, called the police, and also sent an audio recording of his phone conversation with Lindsay to TMZ.
But Lindsay says what she said about her mom was untrue, and that her father betrayed her trust by releasing their phone call to the media.
She said, "He doesn't know what it means to be a father at this point, and it's kind of the last straw for him. Maybe he doesn't want to be a dad … Yeah, I'm done. I'm done."
Lindsay added, "He's not helping anyone by dishonoring my trust … It doesn't make anything better. It just makes me more of a punching bag."
As for her mom, Lindsay said Dina "does not do cocaine, clearly, and that's a fact. She's an amazing woman. I think everyone kind of knows my father's main objective has always been to discredit my mom."
She went on to say that her father only wants "to gain all he can from my name in his insatiable and obvious hunger for fame."
"I'm ashamed for him," she continued. "And it's hurtful to me that he has chosen this road to go down once again."
Lindsay also diminished Wednesday's (Oct 10) mother-daughter quarrel, saying, "I'm really regretful about the argument that I had with my mother, and it's being in public, and I said very hurtful things in the heat of anger … Daughters have fights with their moms. It happens a lot. It's normal."
Lindsay also fielded questions from the media about her argument with her mother on the red carpet of the launch of the health drink Mr. Pink Ginseng Thursday evening.
"My mom's my best friend," Lindsay said with Dina standing right beside her, most likely beaming with joy, and grinning from ear to ear like a proud older sister mother. When a reporter asked Lindsay about her father, she said, "I don't have any reason to speak to him."
Amid all of her family issues, Lindsay says she's in a good place right now. "I'm very close with my mom and siblings," she said. "We're tight-knit. We support each other and we love each other, and my mom raised us that way."
Be the first to receive breaking news alerts and more stories like this by subscribing to our mailing list.