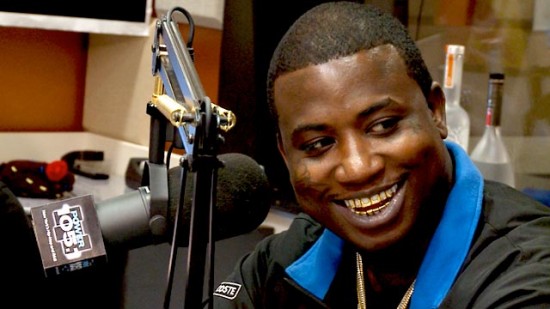 It's no secret that Atlanta rappers Gucci Mane and Young Jeezy have a longstanding beef with each other, but it's been a while since they've went at it publicly.
Gucci Mane recently told Power 105's "Breakfast Club" that he has absolutely NO respect for fellow ATL rapper Young Jeezy, simply telling the popular radio show, "I don't got no respect for him."
On Wednesday morning's (Oct 10) edition of the Breakfast Club, Gucci and the hosts were talking about the infamous Rick Ross and Young Jeezy altercation at the BET Hip Hop Awards, when Gucci was asked what would happen if he and Jeezy were to cross paths.
"It's just respect, walk over here it's going to be some problem," the Bricksquad CEO said. "Ross is a friend of mine, of course Jeezy is not, so I don't care nothin' about what happened to him," he added.
Gucci and Jeezy's well documented beef goes back to 2005 right after they collaborated together on Gucci's hit single "Icy."
The beef got pretty serious too, with Jeezy putting a hit out on Gucci, and Gucci shooting (and killing) a member of Jeezy's crew who had broken into his house in a failed attempt to take Gucci out.
Gucci was arrested, but was later acquitted after it was determined that the rapper had shot the man in self defense.
Making matters worse, Jeezy allegedly has crip ties, while Gucci is supposedly a member of the bloods. So don't expect them to be making any music together anytime soon.
"I don't got no respect for him," Gucci said of Jeezy. "I done did what I had to do."
Among many other topics, Gucci Mane also talked about being an independent rapper, working with Nicki Minaj in the early stages of her career, his bromance with his rap protege Waka Flocka Flame and a new movie he's a part of called "Spring Breakers."
Peep the full interview below:
Be the first to receive breaking news alerts and more stories like this by subscribing to our mailing list.