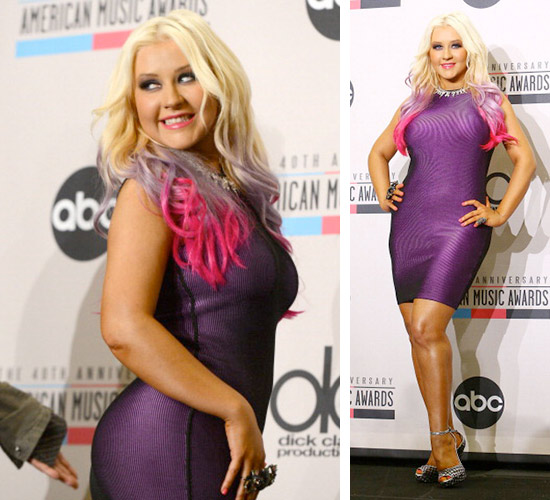 Christina Aguilera is thick-sexy and she knows it.
The "Your Body" singer admitted that she prefers to be "curvaceous" because it makes her feel more in touch with Latin side or whatever.
The biggest problem isn't that Christina has put on weight, it's that she likes to squeeze her pupusa into outfits that are clearly three sizes too small for her.
So imagine our relief when we got a glimpse of these new photos of Xtina at the American Music Awards nominations.
We've got one word and four syllables for Xtina's bootyrito: BA-DONK-A-DONK!
No, seriously. Although her face still looks a bit wombatish, her tits and bootay are looking like juicy fruit.
And the outfit she's wearing is far more flattering and slendering (from certain angles…) than what she usually slaps together. Maybe she decided to splurge and went for a stylist. If so, more of this please.
Now, if only we could do something about her dipping the ends of weave in Kool-Aid…