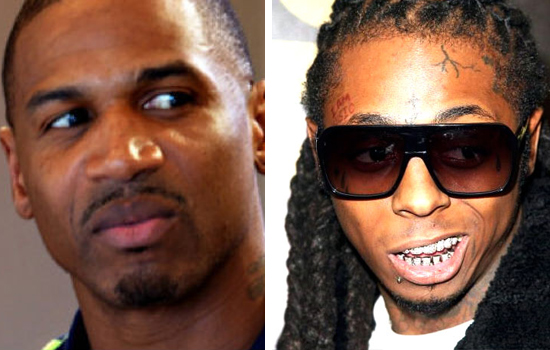 There are a lot of awful things you can say about Stevie J, but one of them sure as hell isn't that he went onstage at Club LIV in Miami and kissed Lil' Wayne on the lips!
One of the stars of VH1's "Love & Hip Hop Atlanta" found himself in the middle of an online media firestorm when video footage of a man, named Stevie J, kissing Lil' Wayne on the lips made its way around the web.
Check out the video footage of the alleged peck between Weezy and a man for yourself below:
Supposedly, there's a popular DJ out of Miami named Stevie J, so perhaps this is all a mix-up. Nonetheless, Stevie went to the airwaves to clear his name, and his on-again, off-again jumpoff Joseline came to his defense too.
First, Stevie called up Hot 97's Cipha Sounds and Rosenberg to address the rumors and Stevie said that he wasn't even in Miami at the time. He's been in L.A. working on new music the whole time.
"I been here [L.A], man…I'm in L.A…That wasn't me, I wasn't in Miami…I'm in the studio makin' hits," Stevie said.
Joseline, for whatever reason, was particularly heated about the accusation and said that she knows that her man doesn't do that "gay shit."
What? First off, when did she start officially claiming Stevie? And secondly, isn't she the same chick was putting out downlow rumors about Stevie in the media?
She needs to pick a side and stay there. All this flip-floppin' with Stevie is driving us muy loco.
Listen to Stevie J clear his name with Rosenberg and Cipha Sounds here:
So, yeah … sounds like a pretty open and shut case. But seriously, even if Stevie was into kissing dudes, we doubt he'd want to kiss Weezy's horrifying grill.
We'll leave that to Birdman: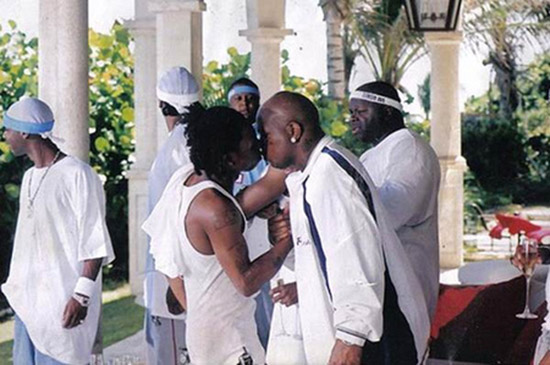 Be the first to receive breaking news alerts and more stories like this by subscribing to our mailing list.