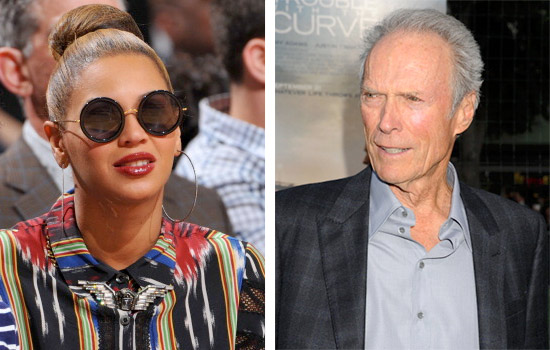 Clint Eastwood — previously known as a world renowned film actor, director and producer, now known as a crazy old man who talks to empty chairs — just lost Beyonce as his "star" in his remake of "A Star Is Born."
Beyonce confirmed today that she will no longer star in Eastwood's movie, citing her busy schedule as the reason for dropping out of the film.
"I was looking forward to the production of A Star Is Born and the opportunity to work with Clint Eastwood," the Grammy winner said in a statement to E! News. "For months we tried to coordinate our schedules to bring this remake to life but it was just not possible. Hopefully in the future we will get a chance to work together."
Beyonce signed on for the lead role of Clint Eastwood's "A Star Is Born" remake in January 2011, but production was eventually pushed back when she announced her pregnancy later that year.
A few months ago, Eastwood sparked controversy (and questions about his senility) when he took the podium at the Republican National Convention and had an extremely long, disjointed conversation with an empty chair that he said was occupied by an imaginary President Obama.
Coincidentally, Beyonce and her husband Jay Z are huge Obama supporters, and even hosted a $40K/plate fundraiser last month that raised over $4 million for this year's re-election campaign.
We wouldn't be surprised if that was the reason why Beyonce decided to pull out of Clint Eastwood's movie all of a sudden. Either that, or she really is pregnant again … because we're so not buying this whole "too busy" thing.
Beyonce — who released an album, performed a 4-night concert stay in Atlantic City and had a baby all in the same 12-month period — is the queen of doing a million and one things at once. There's no such thing as "too busy" with her.
Why do you think Beyonce pulled out of A Star is Born?
Be the first to receive breaking news alerts and more stories like this by subscribing to our mailing list.