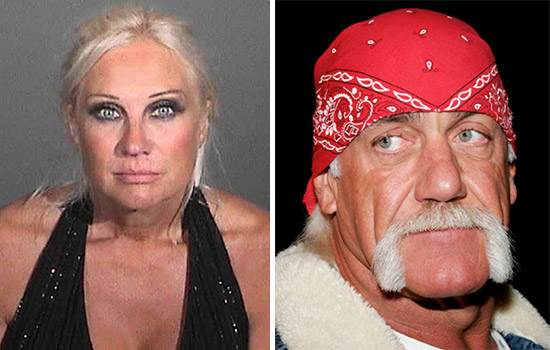 The Hogans have been seeing rough times recently … and they're not even together anymore. A sex tape featuring wrestler Hulk Hogan and a mystery woman leaked on the Internet Thursday (Oct 4), and coincidentally, earlier that morning, his ex wife Linda was arrested for DUI.
Law enforcement sources tell TMZ, Linda — real name Linda Bollea — was arrested at 1:34 AM Thursday morning and taken to a nearby police station where she was booked and put behind bars.

According to the citation, her blood alcohol level WAS listed as .084, barely above the legal limit in California (.08). The 53-year-old was released several hours later on $5,000 bail.
Linda's lawyer told the New York Daily News that she was on antibiotics (as a result of a recent hospitalization for an e coli infection) at the time of her arrest, which heightened the effects the champagne she drank, on an empty stomach, at a jewelry function in L.A.
Oh, okay … We'll take your word for it, Linda. Whatever you say.
"She regrets it. She's a mom, so she's embarrassed about it," lawyer Raymond Rafool told the Daily News. "She's just thankful it wasn't worse and thankful nobody got hurt. The police were all very nice. It wasn't a scene at all. It was anticlimactic."
Rafool also made it a point to note that the Hulk's sex tape did not play a role in Linda's DUI arrest.
"We intentionally want it known we have no comment on the sex tape," he said. "They have moved on to a nice, peaceful place in their relationship. They're working hard to be peaceful co-parents. Even though their kids are adults, they still need their parents."
Linda may be embarrassed … but her ex husband might have her beat on the embarrassment charts. His naked ass and penis are all over the Internet, and he isn't happy about it.
Even though the entire sex tape wasn't published — Gawker only shared an edited one minute version of it — Hulk Hogan's lawyers are in the process of putting together a lawsuit to get the sex tape removed from the web.
Hogan claims that the tape was filmed without his knowledge, and the site has no right to post the footage, and if they don't remove it, he is going to sue.
"This tape was made secretly without Hulk's knowledge or permission," Hulk's lawyer David R. Houston told TMZ in a statement. "We are going to do everything in our power to figure out who did it. Anyone displaying the tape will be held accountable to the fullest extent of the law."
Be the first to receive breaking news alerts and more stories like this by subscribing to our mailing list.