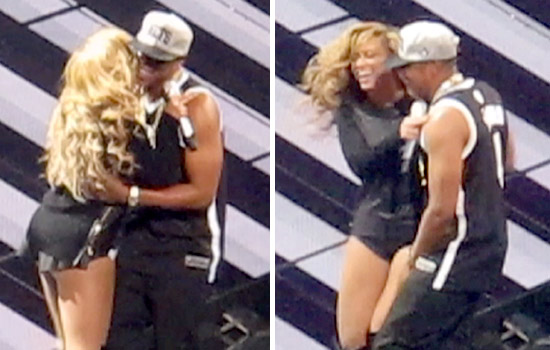 During the eighth and final night of Jay-Z's Barclay Center concerts in Brooklyn, New York, he and his superstar wife Beyonce kissed each other after sharing the stage together for the first time in years.
"What's up Brooklyn?" Beyonce said in her best 'hood' voice to the roaring audience after staring the crowd down following her surprise "Diva" performance. "I have to say I'm so proud to be here … Can I do one more for y'all?"
And with that, the music for "Crazy In Love" started up. When the song got to Jay-Z's verse, the rapper had missed his mark, forcing his wife to fill in some of his lines before he was able to come out himself and finish with a quick slap on her butt (like their 2006 BET Awards performance).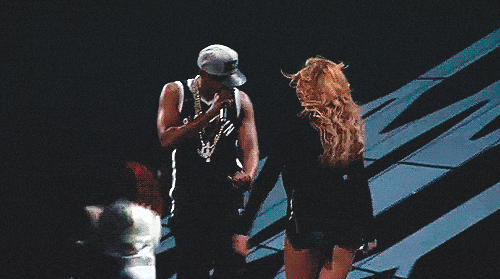 Adding to the dramatics, Beyonce dropped her mic and strutted off the stage while the audience went into a frenzy.
Afterward, Jay-Z explained his delay, telling the crowd, "I kinda fucked up because I was watching the monitor in the back and I was in a daze, I was like, 'Oh shit … I should probably rap here!'"
Funny stuff. Even Jay-Z gets enamored by his own wife's beauty sometimes.
Hip-Hop's royal couple also joined forces later in the night for the show-closing performance of "Forever Young."

Check out both performances below:
Be the first to receive breaking news alerts and more stories like this by subscribing to our mailing list.