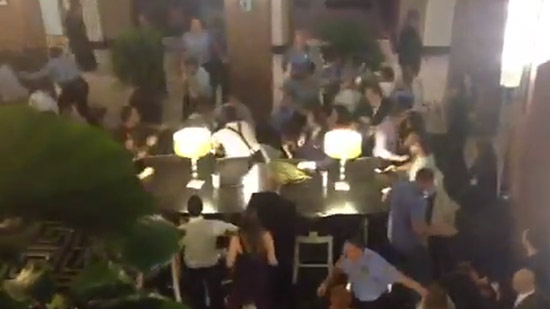 Philadelphia police say a massive fight broke out between two separate wedding parties over the weekend at a hotel that resulted in one death and several arrests.
Police say the fracas started at around 2 a.m. early Sunday morning (Oct 7) at the Sheraton Society Hill hotel bar when a group of wedding guests got into an argument that ultimately turned into a brawl involving around 100 people that spilled into the hotel lobby. (Watch below)
According to NBC10 Philadelphia, one wedding party was fighting/arguing with each other, as another wedding party arrived at the hotel.
Police say someone from one party accidentally hit someone in the other, and fighting between the two groups ensued. Many of the wedding guests from the initial wedding party were intoxicated, according to police.
Max Schultz, who was at the hotel celebrating his 15th birthday, captured video of the brawl. He explained, "I was up on the second floor watching. It was bedlam, out of hand … They just started punching each other and hitting each other and the people just came in and started clubbing people."
The video footage shows police officers beating the hell out of the unruly wedding guests with their batons. The police were so overwhelmed that they had to call for backup twice, according to their report.
Midway through the clip, one of the brides appears to get slammed by one of the officers before eventually being escorted out.
"They just decked the bride!" a male voice — probably Schultz's — can be heard saying off camera.
When all was said and done, two people were arrested for disorderly conduct, and police said a 57-year-old uncle of one of the brides who was reportedly not involved with the brawl suffered a fatal heart attack amid the chaos.
A third wedding guest was arrested and charged with assaulting a police officer, among other charges, after investigators say he put a police sergeant in a headlock.
Police say there could be more arrests, and they are reviewing the videotape to see if the fight could have contributed to the uncle's death.
Be the first to receive breaking news alerts and more stories like this by subscribing to our mailing list.