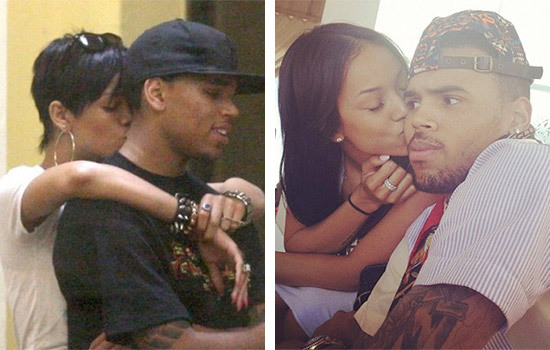 Well that was fast. Shortly after he released a statement saying that he decided to break things off with Karrueche so that she wouldn't be hurt over his "friendship" with his ex-girlfriend Rihanna … Chris Brown released a snippet from what appears to be a documentary.
Dubbed "The Real Chris Brown," the black-and-white clip shows Chris talking about his struggle to choose between Karrueche and Rihanna, with footage from their time together at the club and at Jay-Z's concert too. So you know this one is really hot off the presses.
For his part, Chris says that he cares about Karrueche, but the history between him and Rihanna isn't something he can just brush aside.
"It's just you know when you share a history with somebody, then you tend to fall in love with somebody else, it's kind of difficult," Chris said. "Is there such a thing as loving two people? I don't know. I don't know if it's possible, but for me I feel like that."
Rihanna, on the other hand, is overjoyed with the news that Chris has ended things with Karrueche. She took to Twitter to boast and brag a little about her victory:
Ain't nobody bidness….. But mine and my baby!

— Rihanna (@rihanna) October 5, 2012
In case you couldn't tell, that line from Michael Jackson's "The Way You Make Me Feel" was both an affirmation of her love for Chris and a diss to all the Chrianna haters.
But back to that documentary clip. Is Chris fishing for a reality show or something? Cause it's hard to understand why he'd put something out like this so fast.
Watch Chris' documentary clip below:
Be the first to receive breaking news alerts and more stories like this by subscribing to our mailing list.