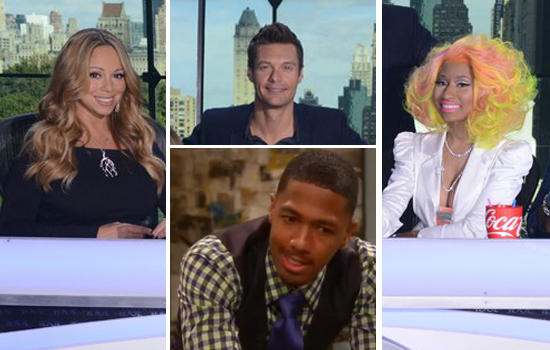 Nicki Minaj and Mariah Carey's beef has been the top entertainment story since the explosive footage hit the web Tuesday (Oct 2). And now, "American Idol" host Ryan Seacrest and Nicki Cannon, Mariah's husband, are publicly commenting on the diva meltdown.
For Ryan's part, he did his best to brush the ugly dust-up off as nothing more than a difference of opinions between two talented, strong-headed women.
US Weekly reported on Ryan's comments, which he made on his radio show.
"These are all very different individuals with different perspectives and different opinions that provide for interesting conversation and dialogue and feedback for the contestants," Seacrest said.

"It got heated between Nicki and Mariah," admitted Seacrest, who was outside the auditorium during the dust-up. "It was intense! I'll be honest with you . .. It went far last night. It did get intense."

"We want that! We want them to be on this panel together. This is a good team, a great team, to go out and look for the next American Idol . . . the feedback that they give is very good."
Well, of course Ryan's going to do his best to try and spin this into something less than toxic. "Idol" producers are probably still trying to mend the fences between the two as we speak.
Who wants to bet that when the live shows start that Nicki and Mariah WON'T be sitting next to each other?
Nick Cannon, the young pup who Mariah hubbied up, had the unenviable task of dealing with a pointed interview about the catfight. He did his best to make it seem insignificant.
"This is like a sidebar. I hope that this is not what the show becomes about," he said. "It's not about the theatrics."
Not about the theatrics? He does know that he's married to Mariah Carey, the queen of theatrics in pop music, right?
Cannon said that he and Mariah didn't really discuss the incident because they "have kids to raise." Right. He really expects us to believe that a major blow-up on the job that takes over every major news outlet doesn't get discussed while the mac and cheese is boiling on the stove?
Just be real about it, Nick.
Watch the video of Nick's interview on Access Hollywood about the incident below
Be the first to receive breaking news alerts and more stories like this by subscribing to our mailing list.